Team Sunderland BUCS round-up – Week One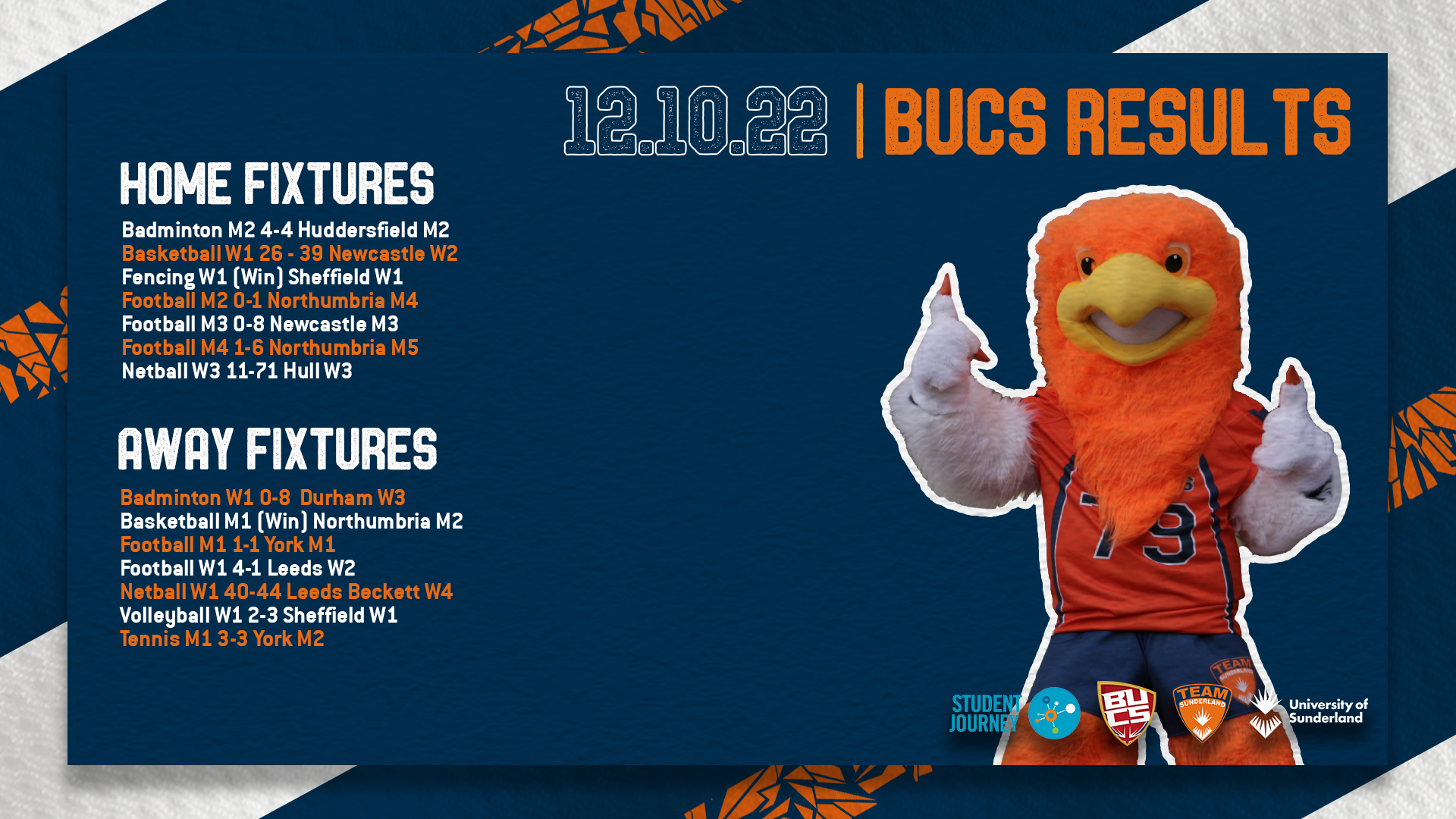 A new BUCS season is underway and teams from various sports will be flying the Team Sunderland flag this campaign. Squads will be looking to repeat successes of season's past while others will be looking to make their mark in their respective leagues.
14 fixtures took place across six different sports on the first BUCS Wednesday of the season with teams welcoming opponents from universities like Northumbria and Newcastle, while others made the trip to Yorkshire to face Sheffield, Leeds Beckett and Hull.
Women's football were one of the sides travelling down to the White Rose county and they came back with all three points. An emphatic 4-1 victory saw the side get off to the best possible start to the campaign which they will be looking to build on next week against Huddersfield at home.
Men's football didn't quite hit the ground running, although the first team picked up a point on the road at York. It could have have been all three, but they were pegged back by an injury time penalty to prevent an opening day victory.
The seconds, thirds and fourths all fell to defeat at home in their first outing with fresh players in each squad.
Northumbria 4ths bested the seconds 1-0 in a tight game that could have gone either way, whereas the thirds were convincingly beaten by Newcastle 3rds 8-0. Their captain, Adam Gill, felt reason to be optimistic:
"It obviously wasn't the start we wanted to the season, but it was always going to be tough considering we haven't trained as a team. We have a good group of lads amd we'll look to put things right at Hull next week."
Despite remaining competitive for most of the game, the fourths also fell to a Northumbria side. You can read the full report on the game here.
In volleyball, the women's team fell to a narrow defeat in Sheffield with plenty of encouraging signs for the games to come.
Netball firsts also lost a close game away from home. They travelled to Leeds Beckett and put in a great performance, but came out on the wrongside of a 44-40 scoreline. The third team will look to allow their squad of entirely new players in over the next couple of weeks as they fell to defeat at home to Hull thirds.
Men's tennis were also on the road to York and the spoils were shared as both sides won three games a piece.
The captain, Patrick Garlick, said: "On paper it was a very tough match against a team that were two divisions above us last season, on a surface that didn't favour our players but we all worked hard and got a respectable draw.
"James Parkin was our man of the match for winning both doubles and singles games in straight sets."
A draw was also the result for Men's seconds in badminton as they reached a 4-4 stalemate at home to Huddersfield while the women's firsts lost away to Durham.
Women's basketball were defeated at home by Newcastle after a spirited display at City Space.
Futsal will get underway this weekend with both National League and BUCS fixtures and cricket started their season at the weekend and you can read about their campaign openers here.