SportsByte Meets – Alisha Palmowski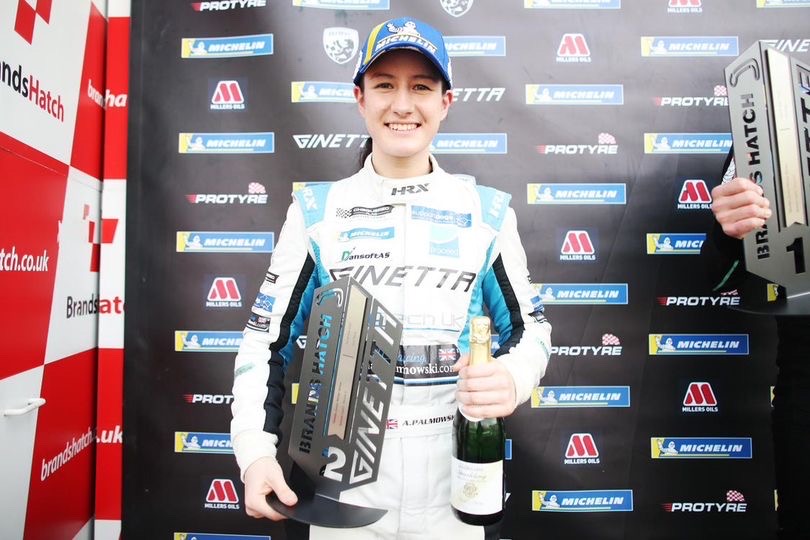 For the first in what hopefully will be a series of interviews. We interview Ginetta Winter Series Vice Champion Alisha Palmowski and talk about everything from what it's like to be Vice Champion in Ginetta Juniors to why she listens to 90s dance:
How does it feel to be Ginetta Winter Series Vice Champion this year? And what will it do for your 2023 ambitions going forward? 
"Becoming vice champion has been a great end to my year, and it feels good to end the season on a high ahead of 2023. I think the SRO support package move is the beginning of a new, really exciting era for Ginetta. It is positive for drivers in that we get more track time, all Ginetta championships are together on the same calendar, and it brings Ginetta to a new fanbase."
You had a season of challenges and highs and lows this year, what lessons can 2022 teach you?
2022 was a huge learning curve for me after making the switch from karts to cars. There is a huge range of things to learn, from weight distribution to setup, and even having wing mirrors and learning how to effectively use them.
With F1 Academy starting and the W Series coming hopefully back online next year, do you see these as viable doors for 24/25? Or is your plan to develop up the GT ladder, perhaps.
In terms of the future, I haven't thought as far as 2024 or 2025. I would possibly see myself going down to the GT route with BTCC or British GTs for example. Although going down the single-seater route would be a great option, GT cars would be the most likely plan.
Who do you look up to in the racing and non-racing world?
In racing, Lewis Hamilton as I admire their route to F1 and how they came from nothing to where they are now and how Lewis conducted himself post-Abu Dhabi. I would choose mum and dad as non-racing heroes, with how much time and money they dedicate to giving me the opportunity to do my passion.
If you could start an F1 team which drivers would you have, and who would be your engine supplier and a team name? 
Drivers would be Lewis Hamilton and Jamie Chadwick as it would be great to have female talent in F1 and I think Lewis would be great in order to nurture Jamie into being a world champion. Engines would be Mercedes as they are my favourite works team. The team name would be AP Racing, like my socials.
Your online profile says you are a lover of all kinds of music, and you are a big film fan. What are your favourite movies and songs to listen to? Pre-race anthem, maybe.
I don't have any pre-race anthems. We have music on in the motorhome, but not in the garage. I love a huge range of music, guilty pleasures are 80s pop and mood lifters. 90s dance tracks are some of my personal favourites. In terms of pre-race motivation, I have an uplifting playlist full of a range of genres.
Ideal post-race weekend treat
I would love a day of school, ideally. The best treat bar, that would be Greggs and chocolate. Just anything that I shouldn't have being a racing driver, really.