South Shields F.C. – a Football League Club in the Making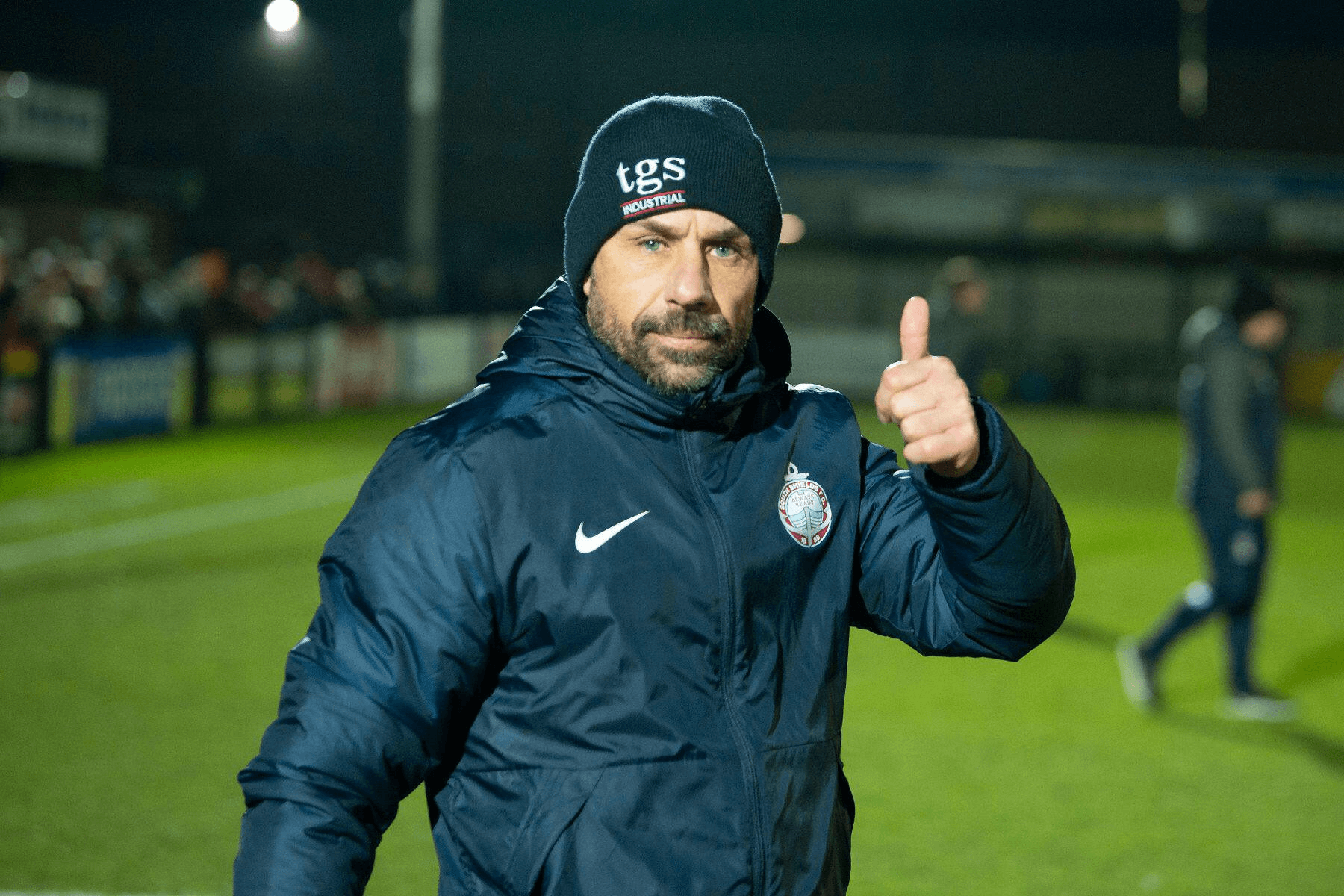 They currently compete in the seventh tier of English football, but South Shields Football Club are dreaming of the Football League.
The North East is littered with enormous football clubs with passionate fanbases. Middlesborough and Sunderland are fighting at the top end of the Championship, and Newcastle United are hoping to bring Champions League football to St James' Park next season.
If you look further down the pyramid, you eventually find South Shields, who sit top of the Northern Premier League.
The Mariners adopted a full-time model at the beginning of the 2021/2022 season, making them the only professional club in their division, allowing them to attract former Sunderland striker Kevin Phillips to manage the club. They also boast the highest average attendance in the division, averaging around 2,000 fans at home games. This makes South Shields an intriguing and unique club, and it is no surprise to see them three points clear at the top of the Northern Premier League with three games in hand.
I had the opportunity to speak to chairman Geoff Thompson and Kevin Phillips to discuss current success, the potential of the football club and how they plan to achieve Football League status.
Back when Geoff Thompson took over, the club was unrecognisable. They were playing 20 miles away at Eden Lane in Peterlee and were on the brink of extinction. Thompson felt a sense of responsibility to save a club that is close to his heart. Speaking passionately, he said:
"I hadn't realised what a predicament the club was in. When I learned about the situation, it seemed like the right thing to do."
Since Thompson's takeover, the club has been on an upward trajectory. He returned the club to Filtrona Park (now known as the 1st Cloud Arena) and oversaw three consecutive promotions to reach the Northern Premier League. Now a full-time outfit, Thompson discussed the decision to turn professional:
"The debate rages about whether we did it too early. We felt at the time that going full-time would position the club in a better place and would help us to attract both managerial and footballing talent. It has brought improvements in areas like strength and conditioning, diet, physiotherapy and data analysis. Turning professional has provided us with a competitive advantage."
It is difficult to dispute the decision to turn professional back in 2021. The club are flying at the top of the league with a playing squad, manager and infrastructure that most other non-league clubs would envy.
For this reason, it is no surprise that Thompson is pleased with the current situation. Speaking proudly, he told me:
"Things are great. I'll be happier at the end of the season when we've hopefully secured promotion. But generally, I'm very pleased."
While Thompson admits that his side is in a strong position, he was quick to remind me that they must not get carried away, and instead grow sustainably:
"We must run the club on a sustainable basis. Investing heavily in the club both on and off the pitch comes at a cost. We look at our playing squad budget and it's the highest in the league. Consequently, that adds pressure on me and Kevin."
"But what's the alternative?" He continued.
"Don't invest and don't try and be ambitious? That can't be right. I'm very confident that the club can progress, but it must do so sustainably."
While he is keen to enforce the point of sustainable growth, Thompson does not deny his ambition to one day see the club play league football. He says:
"We had a project called 'Project EFL,' but we've gone a bit silent on that now. This isn't because we lack ambition, but if you start talking like that then people are quick to criticise."
"But why not?" He adds.
"If you look at South Shields as a town, there are 75,000 residents and 150,000 in South Tyneside. We're a big enough area to support a Football League club. All the ingredients are there. I've invested in the infrastructure to get the right ground grading, support a full-time model and bring the training facility up to the required standard."
Thompson will hope that current manager Kevin Phillips is the man to guide the club up the divisions. He explained the reasoning behind bringing Phillips to the club at the beginning of last year to replace Graham Fenton:
"There is a risk with that decision, and there's a risk for Kevin as well. We were quite opportunistic; I'd heard that Kevin was still spending time in the area and looking to take his first step into management."
Despite missing out on promotion last season, Thompson told The Shields Gazette in June:
"I've been impressed with Kevin, and I like him very much man-to-man."
He remains supportive of Phillips in our conversation, saying:
"In fairness, he inherited Graham's team. We made a lot of changes over the summer, and he's now got a squad that is his."
After an illustrious playing career and coaching experience at Derby County, Leicester City and Stoke City, people may have been surprised to see Phillips begin his managerial career so far down the ladder of English football.
In an interview with The Chronicle back in August, Phillips explained how the opportunity to take charge of the club came to fruition. He said:
"Believe it or not I got a text on New Year's Eve around eight o'clock. I'd already had a couple of drinks and thought it was probably a wind-up. However, I checked with my best friend Keith who knew the North East and he told me that South Shields were going places. I was blown away by the ambition and possibilities."
While it was a significant risk, the Sunderland legend seems delighted with his decision, he told me:
"Having played in non-league before, I've seen teams cut corners at this level, but South Shields hasn't done that. The infrastructure of the club is superb, and it is geared up for league football and that is the main aim. To average over 2,000 every home game and take around 500 to away games just blew me away. It's an area that has a lot of passion for football."
When asked about his aims while in charge of the club, Phillips chuckled before saying:
"I was brought to the club to get them out of this league. We fell short last season, so I was naturally disappointed and felt that I let the club down. Ahead of this season, I was determined to recruit the players that I wanted to build a squad that I believe can get us out of this league. So of course, promotion is key this season and that is my goal."
Phillips shares the Chairman's view of taking consistent, small steps towards the club's goals. He stressed this by saying:
"You must learn to walk before you can run. I think the stadium is close to Football League standard. We have our own training ground which is unique at our level. Everything is in place to take things to the next level but getting out of this league is the priority and we can't look any further than that. In the future, the club is built for league football."
With the infrastructure resembling Football League standard, Phillips recognises that results on the pitch must match this:
"There's no other way around it really, you must get it right on the pitch. We must make sure that we continue to recruit properly and put things in place for next season if we go up. It's about finding a way to win and being consistent on and off the pitch. We need to maintain that professionalism because we are a full-time outfit, and I want to use my experience of being in professional football for 20 years. Ultimately, it's about the players performing when they cross the white line, and so far this season, they have done that."
Recent results on the pitch have won the fans over, resulting in incredible turnouts at the 1st Cloud Arena. David Charlton, who runs the fan site 'Up the Mariners,' summed up the feeling among the fanbase:
"Motivating, empowering and exciting. There's been a new buzz around the place. With that crowd behind us come rain or shine, promotion is certainly doable."
Whatever happens in the next couple of seasons, South Shields are a club with undeniable potential and Geoff Thompson has put the building blocks in place for the club to flourish in the long term.
As Kevin Phillips said, "the club is built for league football," and who better to say this than a man that has seen what it takes to reach the top level?