Formula E round Preview – Will Porsche be stopped in Hyderabad?
Formula E has its Indian debut this weekend among a backdrop of domination by Porsche powered teams.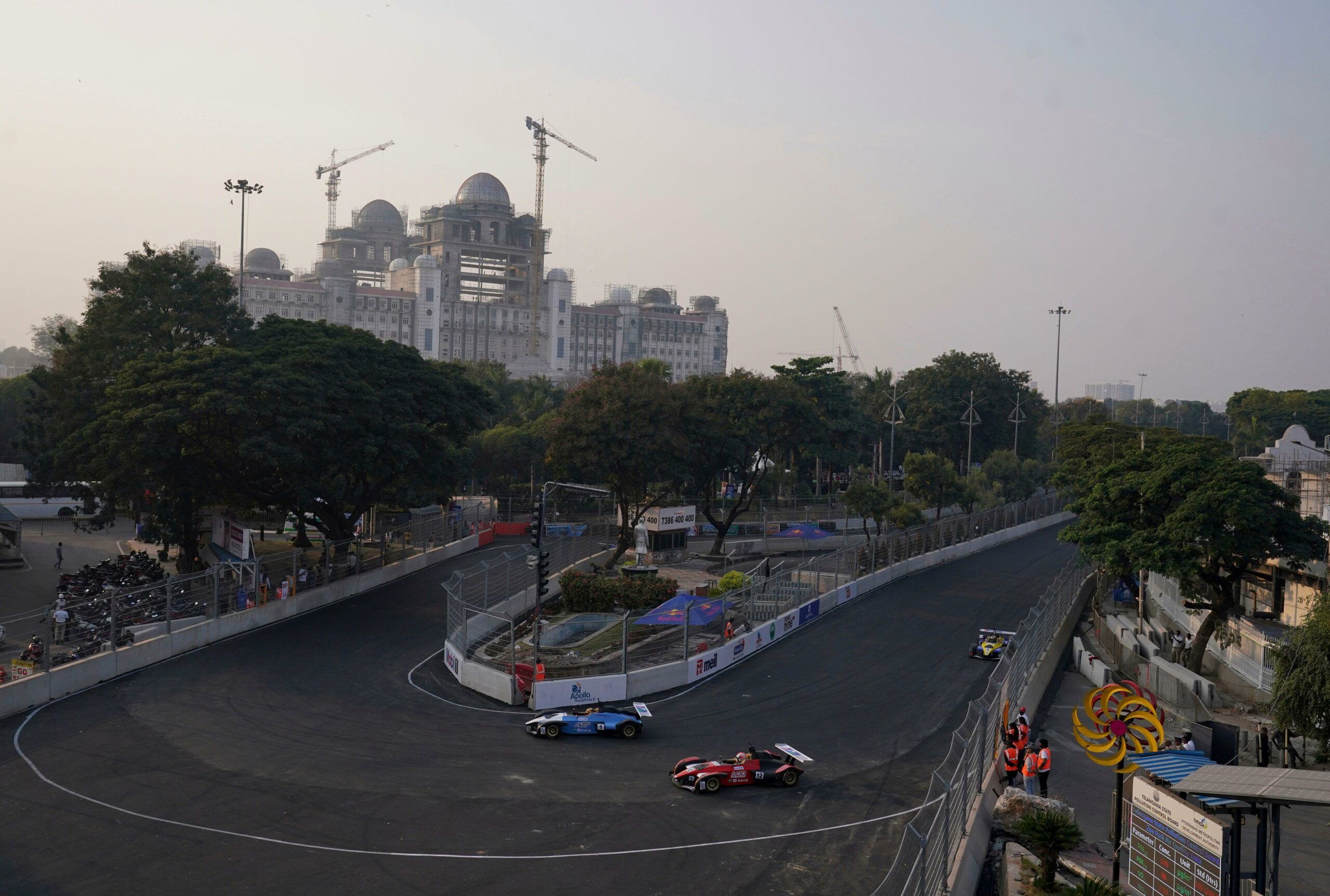 The track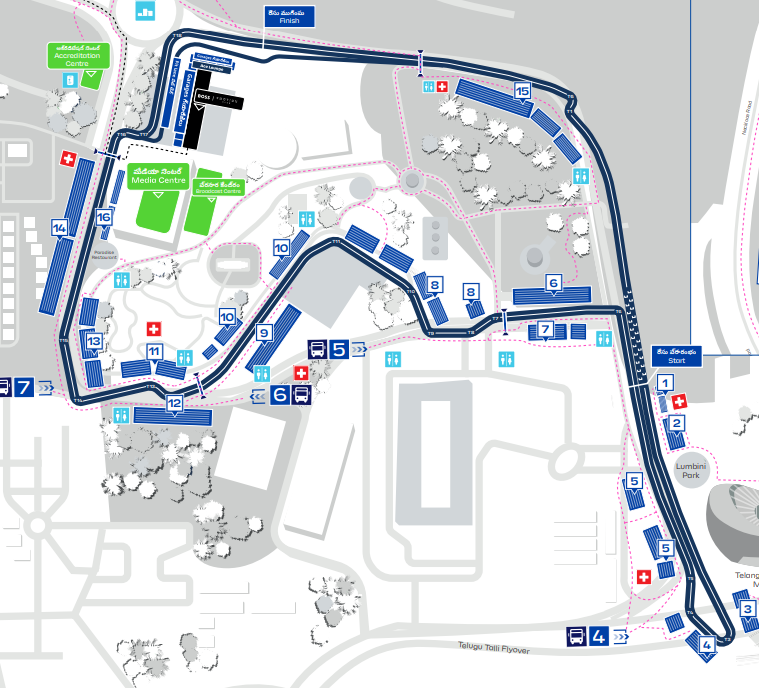 The track seems to be fast and flowing without many deep breaking zones. This means most overtakes no doubt will be made on the long straights. So this track will work more for those who have a powertrain that can be efficient enough through the turns to allow drivers to push on the straights such as Porsche.
The times
This weekend being in India means the race timings are early but just about ok enough for people to wake up without needing strong coffee.
However, if you are a hardcore it will be 2am if you want to see free practice two.
The full timings are below.
10/02
10:55 – 11:45- Free Practice 1
11/02
02:35 – 03:25- Free Practice 2
05:10 – 06:25- Qualifying
09:33 – 11:00 -Race
What is the state of play in both championships?
The drivers
Pos
Driver
Points
BER
POR
VAL
1
Pascal Wehrlein
68
18/2
25/1
25/1
–
–
–
–
–
–
–
–
–
–
–
–
–
–
2
Jake Dennis
62
26/1
18/2
18/2
–
–
–
–
–
–
–
–
–
–
–
–
–
–
3
Sébastien Buemi
31
8/6
15/4
8/6
–
–
–
–
–
–
–
–
–
–
–
–
–
–
4
Sam Bird
28
–
15/3
13/4
–
–
–
–
–
–
–
–
–
–
–
–
–
–
5
Jake Hughes
27
10/5
4/8
13/5
–
–
–
–
–
–
–
–
–
–
–
–
–
–
6
René Rast
26
–
11/5
15/3
–
–
–
–
–
–
–
–
–
–
–
–
–
–
7
Lucas di Grassi
18
18/3
–
–
–
–
–
–
–
–
–
–
–
–
–
–
–
–
8
Andre Lotterer
14
12/4
2/9
–
–
–
–
–
–
–
–
–
–
–
–
–
–
–
9
Mitch Evans
11
4/8
1/10
6/7
–
–
–
–
–
–
–
–
–
–
–
–
–
–
10
Nick Cassidy
10
2/9
8/6
–
–
–
–
–
–
–
–
–
–
–
–
–
–
–
11
Jean-Eric Vergne
6
–
6/7
–
–
–
–
–
–
–
–
–
–
–
–
–
–
–
12
Antonio Felix da Costa
6
6/7
–
–
–
–
–
–
–
–
–
–
–
–
–
–
–
–
13
Sacha Fenestraz
4
–
–
4/8
–
–
–
–
–
–
–
–
–
–
–
–
–
–
14
Edoardo Mortara
2
–
–
2/9
–
–
–
–
–
–
–
–
–
–
–
–
–
–
15
Stoffel Vandoorne
1
1/10
–
–
–
–
–
–
–
–
–
–
–
–
–
–
–
–
16
Dan Ticktum
1
–
–
1/10
–
–
–
–
–
–
–
–
–
–
–
–
–
–
17
Maximilian Gunther
–
–
–
–
–
–
–
–
–
–
–
–
–
–
–
–
–
18
Norman Nato
–
–
–
–
–
–
–
–
–
–
–
–
–
–
–
–
–
19
Oliver Rowland
–
–
–
–
–
–
–
–
–
–
–
–
–
–
–
–
–
20
Nico Müller
–
–
–
–
–
–
–
–
–
–
–
–
–
–
–
–
–
21
Sergio Sette Camara
–
–
–
–
–
–
–
–
–
–
–
–
–
–
–
–
–
22
Kelvin van der Linde
–
–
–
–
–
–
–
The teams:
Pos
Teams
Points
BER
POR
VAL
1
Andretti Autosport
76
38
20
18
–
–
–
–
–
–
–
–
–
–
–
–
–
–
2
Porsche Team
74
24
25
25
–
–
–
–
–
–
–
–
–
–
–
–
–
–
3
McLaren
53
10
15
28
–
–
–
–
–
–
–
–
–
–
–
–
–
–
4
Envision Racing
41
10
23
8
–
–
–
–
–
–
–
–
–
–
–
–
–
–
5
Jaguar Racing
39
4
16
19
–
–
–
–
–
–
–
–
–
–
–
–
–
–
6
Mahindra Racing
18
18
–
–
–
–
–
–
–
–
–
–
–
–
–
–
–
–
7
DS Penske
7
1
6
–
–
–
–
–
–
–
–
–
–
–
–
–
–
–
8
Nissan
4
–
–
4
–
–
–
–
–
–
–
–
–
–
–
–
–
–
9
Maserati Racing
2
–
–
2
–
–
–
–
–
–
–
–
–
–
–
–
–
–
10
NIO Formula E Team
1
–
–
1
–
–
–
–
–
–
–
–
–
–
–
–
–
–
11
Team Abt
–
–
–
–
–
–