The road to Wembley via the EFL Championship play-offs
As the whistle blows on round 46 of the Sky Bet Championship season, the final league standings have been confirmed but the play-offs are only just beginning.
And the question of who will win English Football's very own National Lottery looms large.
We now know third-place Luton Town will face sixth-place Sunderland, while fourth-place Middlesbrough go head-to-head with fifth-place Coventry City over two legs for a place at Wembley and a step closer to the Premier League.
And if Sir Alex Ferguson once dubbed this stage of the season "squeaky bum time" for Premier League clubs, how fraught is it for clubs hoping to break into the promised land of the top tier?
Here, we dissect each club's season and analyse which of them is most likely to book a trip to the capital, and then make the one further and biggest step of all.
Dates for the Diary
13/05/2023
Sunderland vs Luton Town
1st Leg – Stadium of Light
14/05/2023
Coventry City vs Middlesbrough
1st Leg – Coventry Building Society Arena
16/05/2023
Luton Town vs Sunderland
2nd Leg – Kenilworth Road
17/05/2023
Middlesbrough vs Coventry City
2nd Leg – Riverside Stadium
27/05/2023
Sky Bet Championship Play-off Final
Wembley
Head-to-head – 2022/2023 Championship matches
Sunderland 2-0 Middlesbrough
Luton Town 2-1 Middlesbrough
Middlesbrough 1-0 Sunderland
Middlesbrough 2-1 Luton Town
Sunderland 1-1 Coventry City
Luton Town 1-1 Coventry City
Coventry City 2-1 Sunderland
Coventry City 2-2 Luton Town
Sunderland 1-1 Luton Town
Coventry City 1-0 Middlesbrough
Luton Town 1-1 Sunderland
Middlesbrough 1-1 Coventry City
Luton Town
Rob Edwards' side come into the play-offs as strong favourites having recorded just one defeat in their last 20 matches. The run included draws with play-off opponents Sunderland and Coventry while recently defeating Middlesbrough on home soil.
The Championship's most in-form team don't leak many goals, in fact, the last time the Hatters conceded more than twice in a single match came way back in January against a then-resurgent West Brom team.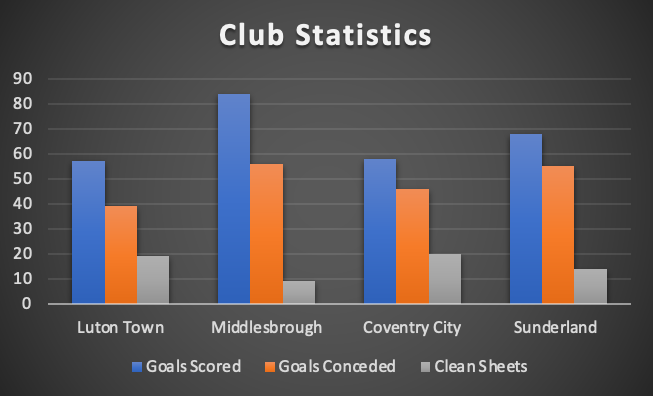 The graph above shows how compact Luton's defence has been this season, conceding only 39 goals in 46 matches. Only champions Burnley have a better Championship defensive record than Luton's 0.85 goals against per game.
However, Luton have struggled at the opposite end of the pitch, heavily relying on Carlton Morris to fire them to victory throughout the season. The talisman has scored 20 league goals, which is a third of the Hatters' 59-goal total for the whole campaign. Edwards' side average just 1.24 goals-per-game which is 10th best in the division which shows their dependence on Morris and to not concede. Staggeringly Luton have only managed to score more than two goals per match on four occasions all against teams at the opposite end of the table.
One area which could prove pivotal is the club's away form; only Burnley (47) have collected more points on the road than Luton (41) this season. The Hatters' record at home has been very similar. Losing only four times in 23 matches has made Kenilworth Road an intimidating place to visit.
Luton have lost just three times from winning positions this season with Middlesbrough being one of those clubs to come from behind and snatch maximum points. Edwards has created a formidable defence but relies heavily on Morris to find the net which could be a problem should their opponents have a plan to nullify the striker.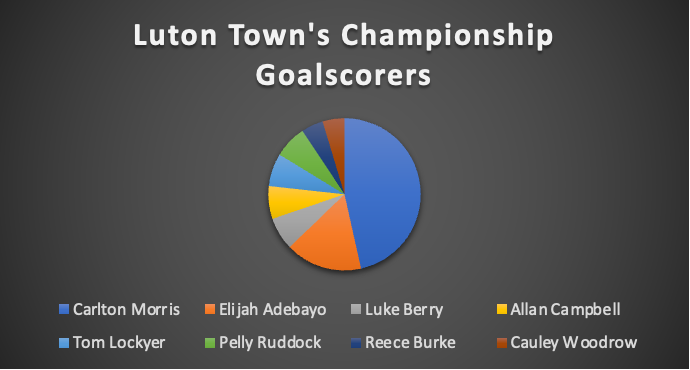 Middlesbrough
Boro's form has stuttered in recent weeks. Michael Carrick's team have finished their campaign without a win in their last three matches. In fact, Boro have won only three of their last 10 league fixtures – a disappointing end after previously being tipped for an automatic promotion spot.
Carrick took charge of Middlesbrough in October last year and has since transformed the club's fortunes. Middlesbrough sat just one point above relegation in 21st position after 11 games on his arrival and Carrick's possession-based football has seen his side take 58 of 90 points on offer.
Middlesbrough have had no issues finding the back of the net. Carrick's side are the league's second-highest goalscorers with 84 goals. Boro have an expected goals-per-game average of 3.04 the highest of all 24 teams.
Chuba Akpom is the Championship's top goalscorer with 28 goals. Interestingly the frontman has only scored one of those goals against Boro's play-off rivals this campaign. Middlesbrough do have other options in attack, with Cameron Archer (11), Marcus Forss (10) and Aaron Ramsey (8) all capable of scoring.
Defensively, Middlesbrough have struggled, conceding 56 goals and collecting only 10 clean sheets all season – their last coming in mid-March against Preston North End. Carrick's side concede an average of 1.22 goals per game with the majority coming in the first half.
Only Burnley and Sheffield United have a better home record than Middlesbrough this season. Vincent Kompany's side along with Blackburn Rovers and Cardiff City are the only teams to leave the Riverside with maximum points. Boro have taken 46 points from home matches which is a stagging contrast to their away form. Carrick's team has lost half of their away matches collecting just 29 points on the road which leaves them ninth in the away form table.
The second leg being played at the Riverside could prove to be the deciding factor due to Middlesbrough's impressive home form. Statistically, Middlesbrough have the best attack but defensively they are the weakest out of the four play-off sides. They have several talented individuals who will cause teams problems in front of goal, but the inability to keep a clean sheet could prove to be their downfall.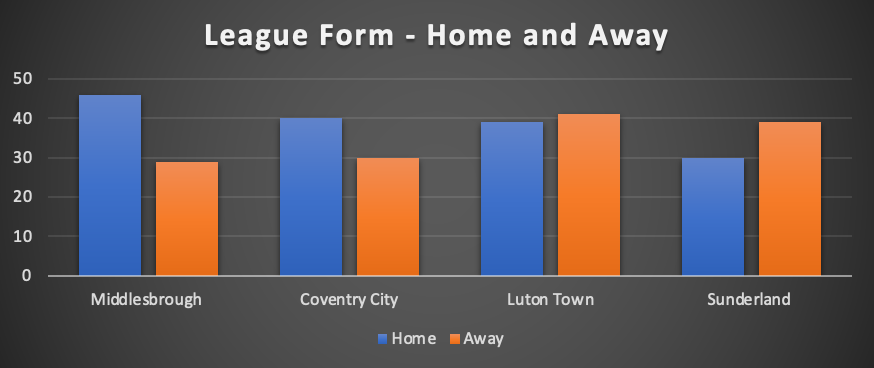 Coventry City
Mark Robins has led Coventry on a remarkable recovery having occupied a relegation spot in the early weeks of the season. The Sky Blues registered just one win in their first 10 league outings against play-off opponents Middlesbrough.
Coventry's home form has been a key reason for their success this season. The Sky Blues have suffered just two defeats in their last 17 home fixtures averaging over 2.35 goals per game. Away from the Coventry Building Society Arena they have collected 30 points, 10 fewer than at home, but are currently unbeaten in their last nine away fixtures, building up some serious momentum going into the play-offs.
Ben Wilson kept an impressive 20 clean sheets in 43 matches claiming the Championship's Golden Glove award. Robins has put together a strong resolute defence having conceded only five goals in their final six league fixtures, averaging less than a goal per game.
Coventry's biggest threat is Swedish striker Viktor Gyökeres. The 24-year-old has featured in all 46 Championship matches this campaign scoring 21 goals and providing 10 assists. The forward has been influential in the team's build-up play and a key component in Coventry's success over the last two seasons. The Swedish international has scored against all his play-off opponents this season collecting eight points in the process for the Hatters.
Gustavo Hamer and Gyökeres are Coventry's most creative players. The former has registered nine goals and 10 assists this campaign. If a team can find a way to stop Gyökeres the Sky Blues could struggle, but few have been able to do that.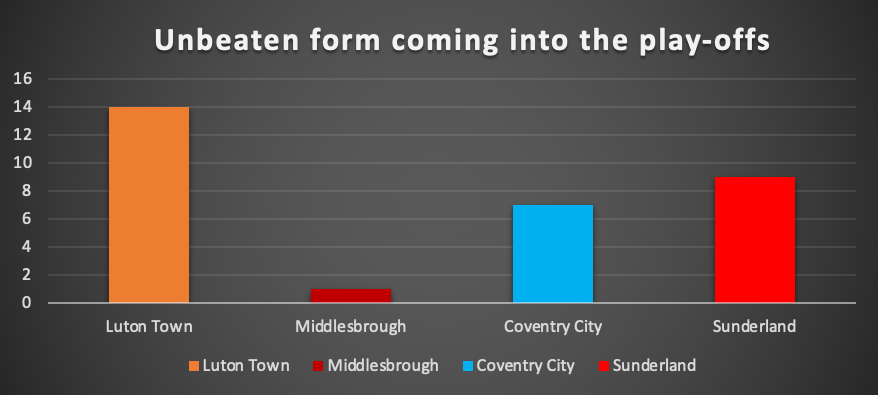 Sunderland
Sunderland have had an incredible season and one not many would have envisioned last summer having returned to the Championship via the League One play-offs.
The Black Cats have suffered several injury blows throughout the season, losing key players such as Ross Stewart, captain Corry Evans, Elliot Embleton, Aji Alese and most recently player of the season Danny Batth for long periods of time. Meanwhile, striker Ellis Simms was recalled by Everton in January after scoring seven goals.
Tony Mowbray's attack is one of the division's most dangerous, averaging 12.22 shots per game with 4.98 of those being on target. The chart below shows the team are not reliant on one or two players. Instead, they have goal contributions from across the squad. Sunderland have scored in all but one of their last 27 league matches – a 0-0 draw away to Burnley being the exception. Interestingly, Sunderland, have scored 24% of their goals in the final 10 minutes of games, collecting 23 points in the process.
Sunderland's away form is the fourth best in the league with only the two promoted sides and play-off rivals Luton Town picking up more points on the road. However, the same cannot be said about their home form. Mowbray's team have won just seven times at the Stadium of Light, conceding as many goals (33) as they have scored. Defensively the Black Cats concede an average of 1.20 goals per game and have kept 14 clean sheets; eighth best in the division, which is an impressive total considering the various partnerships forced on the team due to injuries.
The team's character and determination has been there for everyone to see throughout the season. The first leg of their semi-final tie could play a pivotal role in the club's play-off chances with home form being a concern. The play-offs are one area Sunderland have plenty of experience in recent years; five of their last six seasons have resulted in play-off deciders. The Black Cats have the Championship's youngest squad with an average age of 23.6. The last 46 games have provided the players with important experiences going into the final two or three matches as they look to achieve what seemed unachievable just 12 months ago.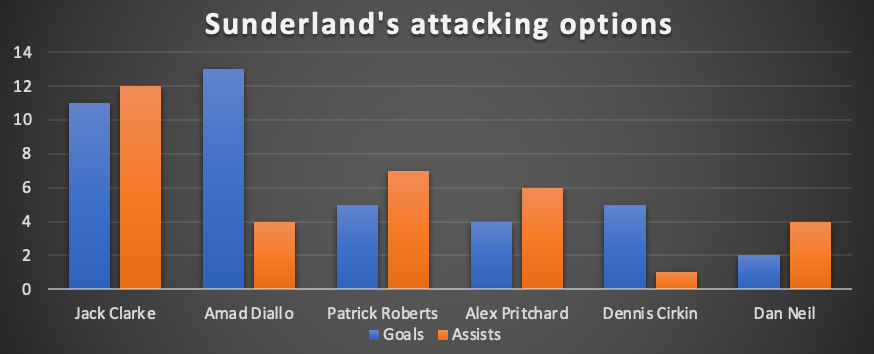 Prediction
The Championship gets stronger each season and this campaign has been no different. I expect all five play-off matches to be tightly fought contests.
In the first semi-final, Luton face a depleted but determined Sunderland side. Both league fixtures ended in 1-1 draws, and I believe the first leg will be no different. Despite the injuries mounting up, Sunderland will again deliver away from home and the belief within the squad will see the Black Cats grind out a positive result at Kenilworth Road to book their place at Wembley.
The second semi-final kicks off with Coventry City hosting Middlesbrough. The match will be a fascinating fixture as the Championship's top two goalscorers and goal creators in Akpom, Gyökeres and Ryan Giles go head-to-head. I believe Coventry's unbeaten momentum will prove decisive. The Sky Blues will claim a narrow win on home turf before producing a defensively solid display at the Riverside to seal their spot in the final.
Not many would have predicted a Sunderland vs Coventry City Championship play-off final back in July. It shows you anything is possible with the right mentality, dedication, and belief. Looking at the two squads I expect an open end-to-end match with Gyökeres' quality in front of goal being the deciding factor. The striker has 31 goal contributions to his name this season and three of those came against Sunderland. I believe Gyökeres' pace, power and clinical finishing will win Coventry the match and end the Sky Blues' 22-year top flight absence.