South Shields Women FC skipper Alex Miller speaks on step up to the Mariners management team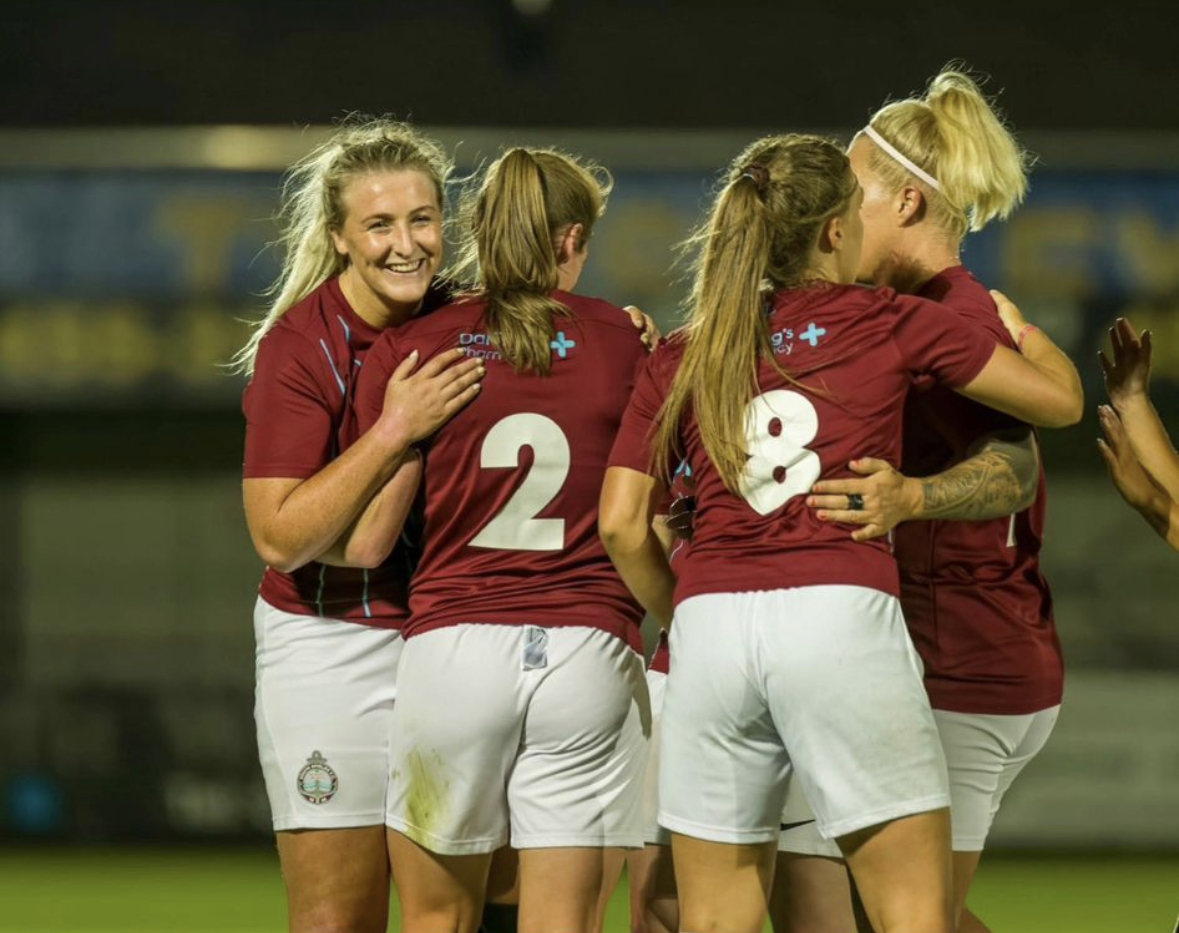 Alex Miller (pictured left) celebrating alongside teammates during the 4-0 win over Blyth Town Ladies (September 14, 2022).
Whilst fighting an exasperating long battle with injury – mentally as well as physically – the South Shields Women FC captain Alex Miller is "enjoying the learning experience" in her new temporary footballing challenge; the leap from playing to coaching. 
Miller has captained the side since the beginning of South Shields Women FC in 2013, at only 16 years of age.  Following her second anterior cruciate ligament rupture during a county cup victory against Birtley Town Ladies, the skipper has joined the coaching team of the Mariners. 
As medical professionals had not confirmed the extent of the injury, Miller assumed she was blaming previous experience for her conspiracies of yet another ACL injury.  She decided to train again – with the use of reinforcements, such as knee supports.  Feeling more confident, she decided to continue her playing career.  Her final appearance ended in heartbreak at the Harton Welfare. 
Miller's final game for the Mariners ended early due to dislocating her knee after landing awkwardly, against Alnwick Town Ladies.  The game ended in defeat with the scoreline being 2 – 4 at full-time.  
She is currently awaiting ACL revision surgery, before putting the boots back on as a player. 
Following the departure of Ben Garrity, the former South Shields Women FC head coach,  in December of 2022 – Miller, alongside vice-captain Becki McMahon, stepped up to maintain regular training sessions, alongside the tactical changes on a matchday basis. 
The drought of coaches ended when Matt Gatiss was appointed the head coach role, who nominated Miller to be the assistant head coach in July 2023. 
"It's very different!", stated Miller, "I'd say I'm still transitioning from a playing mindset to a coaching one. 
"I've really tried to throw myself into adapting to our current head coach's philosophy and style, and to be honest, I'm finding that I'm enjoying the learning experience. 
"I am enjoying it and have great coaches around me to enable that transition. 
"The club has been especially helpful by putting me through my coaching badges." With Miller's lengthy sidelined period, she has completed her introductory coaching badge and is undergoing a welfare course, alongside a first aid course. 
"I can relate to the players on a different level compared to our other coaches". 
Miller's original anterior cruciate ligament injury occurred on October 1, 2017, which was then repeated on July 16, 2022. "It's one of the hardest obstacles an athlete has to overcome.  Aside from the obvious physical difficulties, sometimes the mental struggles associated with the long-term injury are overlooked.", she admitted. "I was told via phone call whilst on holiday in Krakow, that my ACL replacement graft had failed.  Since then, my mental and physical health has suffered – especially when discovering the waiting list was around a year." 
Regardless of her multiple setbacks, Miller seems enthusiastic to get back on the team sheet: "I'm so frustratingly excited to get back to playing football. 
"I say 'frustratingly' because I know I still have a long road ahead of me before I get to play again." 
On whether a full-time management role is within her scope, Miller said: "It's definitely something I'm considering doing once my playing days are well and truly done! 
"I can't ever imagine myself not being involved in football, so coaching would be the natural progression after playing". 
Whilst Miller's new journey in the coaching aspect, and road to recovery continues, the Mariners aim to continue their unbeaten run in the North East Regional Women's League.  They face Hull United AFC Women's team on November 26, 2023. 
"I feel confident enough in the team's resilience and ability to know we'll do what's needed to get the three points against a physical Hull United."