"It's a harsh environment that not many people make it in" – Greg Olley gives advice to youngsters breaking into professional football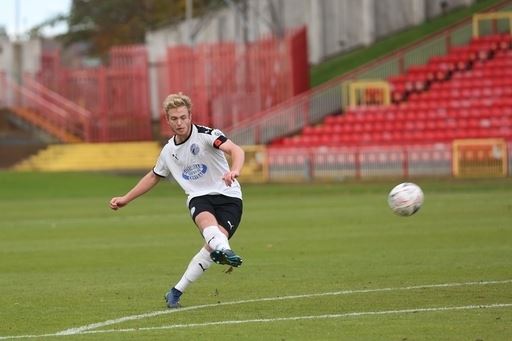 On the brink of lockdown due to the worldwide COVID-19 pandemic, football across the globe has been suspended until further notice. Fans – whether they be die hard, home and away, season ticket holders or casual armchair weekend watchers – don't know what to do with themselves and they can't even turn to the Sunday League for their fix, because county FA's have followed suit and shut that down too. But it's not just the supporters who have been impacted, how on Earth will the footballers cope after their routine being completely interrupted for the foreseeable? Well, Gateshead FC midfielder Greg Olley killed a little bit of his spare time in answering a couple of questions I had for him. We talked about breaking through a youth system, being released and bouncing back stronger than ever.
What was it like coming through the Newcastle youth system? – Was there a lot of pressure on your shoulders and how were you supported through your time there?
I loved my time at Newcastle, I started in the development centre at 6 years old and then went straight into the academy at 8. Up until the age of 15 you're pretty stress free, just enjoying football, but then the pressure ramps up. Scholarships are on the line at 16 so you have to perform every week in training and games. I was lucky to get my scholarship, and can honestly say I loved every minute up until my release when I was 19.
Is there any staff in particular you thank for developing you into the player you are today?
To be honest all the staff at Newcastle were great with me so I couldn't say thank you to one I'd have to say they all played their part in my career. After getting the scholarship I kind of realised I have a chance of living my dream.
Seven goals for Gateshead in 38 appearances last season is an impressive record for a midfielder. How does it feel to finally get your chance to show the world what you're capable of?
Gateshead has been fantastic so far, I literally can't fault the club. Of course they gave me my first real chance in football and last season was truly great. All with a small squad, but to do so well was amazing.
Can you pain a picture of what it as like being around the club last year on the brink of a liquidation crisis? How much of a relief was it when Neil came in and rescued the club, and how did you handle the anxiety around doubts of a future with Gateshead?
It was a horrible experience – not knowing if the club was going to be there this season and not knowing when we'd get paid every month. Neil has been great and steadied the ship and now everyone is looking forward to trying our best to get the club to the football league. That has to be the overall aim. Gateshead thankfully offered me another contract and I was happy to accept.
You were unfortunately released from Hull City back in 2018. How was that period of time for you? Did you assume it was game over for football as a career or were you resilient and able to bounce back from it?
I loved my time in Hull, I went there on my own and made some great memories and friends. I can't say I thought it was over. They didn't give me the chances I wanted to go out on loan or play first team football, so I was happy for the chance to play there but also looking forward to playing football week in week out.
Any advice you would give to youths who are on the cusp of breaking through to a professional level? What would you say to your younger self if you had the chance to go back and tell him?
If I was to talk to someone I'd say that you have to be enjoying it. The pressure can get a lot through parents and coaches, so just make sure it's what you want…and if you do enjoy it then really go for it. Do more than the person next to you, because it really is a harsh environment that not many people make it in.
Best footballer in the squad:
Jordan Preston – he has the ability to change any game in an instant
Best footballer you've ever played with or against:

Hatem Ben Arfa – no one could tackle him
The Joker:

JJ O'Donell – he considers himself pretty funny
Best dancer:

Not sure about best dancer, go with Connor Thomson
Best dressed:

Connor Oliver – looks smart in anything
Squad DJ:

We take turns to DJ as we all like different music
Future manager:

Liam Agnew – I think he knows his stuff
Fastest and slowest in the team:

Fastest – Connor Thomson
Slowest – Mike Williamson
Most Fined:

Elliott Forbes – he gets fined for something every week
The complainer:

Nicky Devedics – loves a moan
Best nickname:

Elliot Forbes – Kippa after his dog
…and longest in the shower:

Brad James – …nothing to say about that