"It shows a different side of football that people don't get to see" – Fans give their opinions on 'Sunderland 'Til I Die' Season 2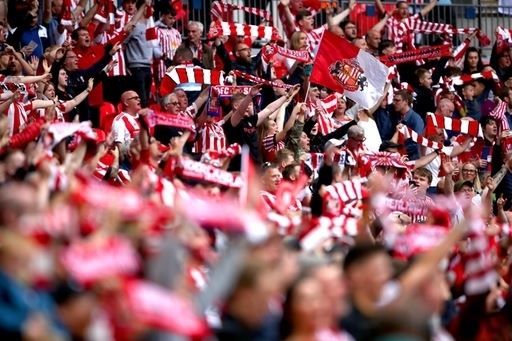 Sunderland 'Til I Die season two is a week old today and we thought we would catch up with football fans across the world to see how the six part docu-series following the Black Cats was received.
The production commissioned by Fulwell 73 – which actor, television personality and all round funny guy James Corden has major investment in – tells the tale of a League One Sunderland, and the club's efforts in the 2018/19 campaign. Under new ownership of business partners Stewart Donald and Charlie Methven, cameras followed the daily rituals associated with running a well established football club aiming for promotion, capturing the highs, the lows and the downright bizarre.
The initial documentary which was released exclusive to Netflix in 2018 an instant hit with the Red and White Army, and left many wanting more despite the hardships of back to back relegation for a team which even ex Newcastle star Joey Barton said: " Shouldn't be in this division."
So when there were rumors running wild that there wouldn't be a season two, fans were predictably disheartened, to the point where one fan even decided to make his own rendition, using materials available on the web.
To the delight of many Wearsiders, as well as football fans worldwide, these rumors had no substance to them and Netflix released the second heart wrenching installment on April 1st. So how does it match up with the last series? Here's what the viewers said:
Shaun Muncaster, Care Assistant, Sunderland fan –
"It's a good insight to what goes on at the club and shows how much the owners didn't listen to the manager – after telling him not to sign Will Grigg for that price yet continuing to do so. Didn't get much in terms of reactions of the players and fans, I think it was more for the Maja situation and the new owners. Fulwell 73 have to be proud that they have got people who now nothing about our club and culture, to recognise us and respect us."
Liam Warcup, Bar Manager, Liverpool fan –
"Interesting. Ran more like a regular business – all Methven (in particular) spoke about was breaking even or making a profit. Lack of communication between the levels is shocking at times, and the Maja situation is still unclear – footballing decisions about him and his replacement were poor."
Chris Brown, Store Assistant, ex SAFC season ticket holder –
"Garbage."
Mark Peterka, Student, Hungary, Arsenal fan –
"I was buzzing to watch the second season as the 2018-19 campaign was more challengin and interesting than the season before. Obviously it didn't end well, losing twice at Wembley, but with the new owners who clearly have a passion for football, things might be turned around in the next few years. I believe the lads will challenge again in the Play-offs this season."
Michael Stephenson, MK Dons fan –
"Really informative, shows a different side of football that people don't get to see. It's not just a fans experience but what managers, directors and different members of staff go through. Would love to see something like this for more teams."
Jackson Byrne, Sunderland fan –
"Season two made me fall in love with Sunderland again, something that the first season massively flawed. It was very powerful in that it brought back the butterflies to my stomach watching the Charlton game at the start of the season, and of course the horrid end to that campaign. It was such a massive improvement upon the last abysmal season, in which I felt embarrassed to be a Sunderland fan."
Anthony Reddell, Teaching Assistant, Lifelong SAFC season ticket holder –
"I refuse to watch the documentary until I'm over the heartbreaking trips to Wembley last year, and having – what felt like – my life shattered twice."
Louis Searle, London, Spurs fan –
"I think there's good and bad, it opens the door to everyone to what a club is really like. It builds a closer relationship with fans and players. However, I don't think everyone should know what happens with their club as it is a business and some matters should stay behind closed doors."
Adam Gill, SAFC season ticket holder of 12 years –
"Overall, I thought across the two seasons it showed a lot of insight into how the club was run, and as a fellow Sunderland supporter it was interesting to know how the club was being looked after and how things work behind the scenes, as you usually don't get to see those things as a fan."