Nicky Featherstone reaches 250th appearances – How big of an impact does he have on Hartlepool United?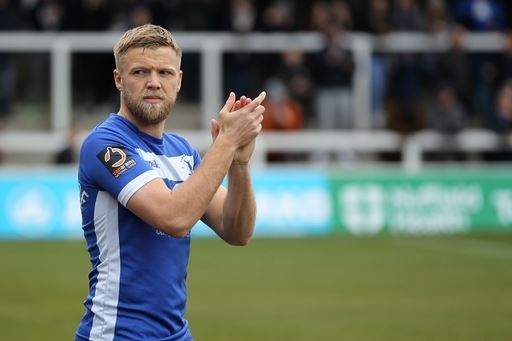 On Saturday March 7, Hartlepool United midfielder Nicky Featherstone surpassed the quarter century mark of games for the club in all competitions.

The midfielder joined Pools in the middle of the 2014/2015 season when the club still played in the Football League, and has been a mainstay in the team ever since.

Over the past few years especially, the Yorkshire native has divided fans, with some questioning his status in the team, and sometimes his attitude.

However, this season Featherstone has proved why he has been kept at Victoria Park for so long, with him playing a vital role in Pools' run towards the playoffs.

Now that he has reached a historic landmark, we take a deeper look at the midfielder, and his role in what has probably been Pools' must successful season since he joined the club.

Although never a huge contributor in the way of a high volume of goals (the midfielder has scored just 11 in 251 appearances), he has scored some spectacular and important ones. This season, Featherstone has scored four goals, with all of them coming from outside the box and either being the winning goals, or goals that eventually led to draws.

It would also be a disserservice to Featherstone to discuss goals without mentioning his spectacular lob against Maidenhead last season, which helped the team to a 2-1 win.

So even though Featherstone has scored a few goals, that wouldn't explain why he has logged the fourth-most minutes for Pools this season (2,926.)

It's a cliche in sports to say 'what he does doesn't show in the stats', but with Featherstone this genuinely is the case.

His problems have never been technical, but more that he doesn't possess great physical attributes. Now that Featherstone isn't expected to be a box-to-box midfielder, and instead plays in a deep role in front of the defence, manager Dave Challinor is reaping the benefits.

Playing alongside more mobile and attack-minded midfielders such as Gavan Holohan and Mark Shelton has allowed Featherstone to focus on what he does best, which is winning the ball, and then recycling it (passing the ball to the likes of Holohan and Shelton.)

When it was announced Featherstone would be extending his stay at Pools for another season in June 2019, there were grumblings amongst some fans, and rightfully so.

One particularly poor performance that stands out was away to Harrogate last year. Pools lost 3-1, which may not seem too bad on paper, but it was one of the worst performances in recent memory.

Featherstone was amongst the worst performers that day.

You'd be forgiven for thinking that it would be tough to convince most fans that re-signing him for another year was a good move after that.

Roughly a year on from that though, Dave Challinor has expressed his importance to the team.

"Since we've come in, he's been integral to what we've done.
"People will look at him and have different opinions but again I'm looking to have players buy into what we're trying to do and put across and he's absolutely done that."

With the National League being postponed for the near future due to the outbreak of Coronavirus, it's possible that the 2019/2020 could be abandoned (although a delay is more likely.)

Should the season have finished as of Pools' last game, that could mean that Nicky Featherstone has played his last game in the blue and white of Hartlepool.

Featherstone is out of contract in the summer, but with the manager's backing and the fans slowly turning their opinions on the midfielder, it's likely that he will stay.

Perhaps the problem has always been that Featherstone has been expected to be something that he's not by previous managers.

Now that the club has a manager who knows how to use him and is having success doing so, it's possible we might be seeing the midfielder for many games to come.