Cyril Knowles, promotion, favourite teammates and Nicky Featherstone – Brian Honour reflects on his Hartlepool United career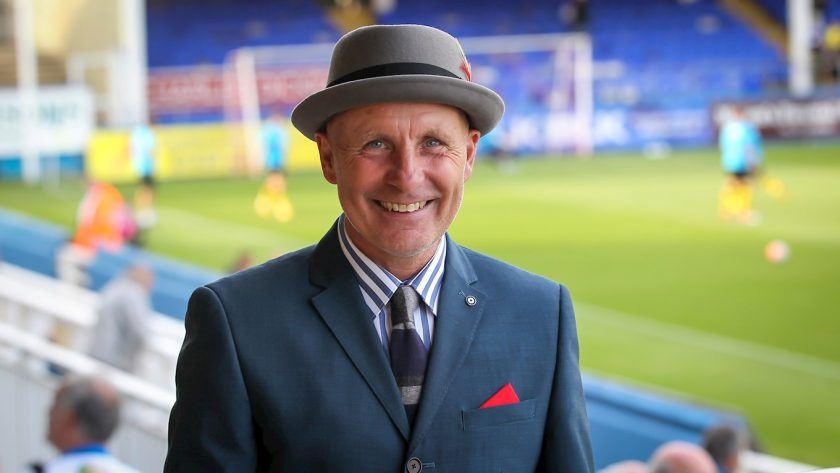 Almost 30 years after Hartlepool United won promotion to what was then known as the Third Division, we spoke to three-time Supporters' Player of the Year Brian Honour to discuss his memories of the promotion season of 1990/1991, Cyril Knowles 'Boot Camp' style of management, the best player he played with and the current Pools player he wishes he could have played alongside. 
Brian Honour joined Hartlepool United at the beginning of the 1985/1986 and became an immediate hit with the fans as he won his first of three Supporters' Player of the Year awards. 
Although Pools finished 7th that year, a seemingly good foundation for the future, it took several years for the club to come close to promotion again. 
In fact, they were closer to relegation. 
That was until former Tottenham and England defender Cyril Knowles took over as manager in December 1989. Under him, the club managed to climb free of a relegation battle, finishing 12 points above the drop zone. 
Honour recalls how Knowles' style of management was exactly what the club needed in such precarious times. 
"At the time Cyril was exactly what was needed when we had to steady the ship, and get ourselves out of the mire. There was no doubt about it that we would have gone out of the Football League without him."
Knowles remained manager for the following season, 1990/1991, but was forced to leave his post in February 1991 after being diagnosed with a brain tumor. Despite his terrific achievement in keeping the club afloat the year prior, Honour believes that fans may remember things differently.
"People think that when he left we were at the top, but we were probably closer to the bottom."
Knowles was replaced by Pools' then-Chief Executive Alan Murray, who Honour describes as the complete opposite to Knowles. 
"When Alan Murray came in it was a completely different approach. He just told us that we were good players, and that he had faith in us, particularly me and Paul Dalton. I don't think it's a coincidence that mine and Paul's form in particular went from strength to strength under Alan. 
"Things went from one extreme to another."  
Even though Cyril Knowles is rightly recognised as a legend of Hartlepool United, Honour believes that the club had reached it's peak under his management halfway through 1990/1991 and new leadership was needed to take the club to the next level.
"I don't think we would have gotten promoted with Cyril manager, he had taken us as far as he could.
"If you look at Cyril's past, when he had managed Darlington and Torquay, it was exactly the same. He went in, steadied the ship with an aggressive management style, got results short term, but he couldn't get promotion or have a sustained period of success."
Murray's introduction to management was seamless, as the club finished in 3rd place, one point behind title winners Darlington.
Pools secured promotion with a 3-1 win over Northampton Town, a day which Honour describes as his best moment in football. 
"The day against Northampton when we actually got promoted, was a day I'll never forget for the rest of my life. 
"We'd gone on a fantastic run where we had only lost maybe one game in 14. We went from mid table to the point of almost winning the league on the last day of the season."
The team of 1990/1991 contained several players who would move onto play at a high level, such as Joe Allon, who's 35 goals that year earned him a move to Chelsea in August 1991 for a fee of £250,000. 
Despite Allon's incredible goalscoring exploits that year, the striker was not regarded as the best player by Honour. 
"The best player I ever played with was Rob McKinnon. 
"I've been fortunate enough to do commentary in recent years, and watched during the golden era when the club went to Cardiff, but I still haven't seen a better player pull a Pools shirt on that Rob McKinnon."
After leaving Pools in 1992, McKinnon would go on to enjoy spells in Scotland and Holland with Motherwell and FC Twente, and made three appearances for the Scotland National Team.
"He should've gotten the chance to play at a higher level much earlier", Honour says.
Although the club currently play in the National League, Honour believes that one Pools player would have played a huge role if he was a part of the squad of 30 years ago. 
"He's not everybody's cup of tea, but I think that Nicky Featherstone is a really good player.
"Some of the fans are quick to blame him when things go wrong, and say that we're a bit of a soft touch in midfield but I don't think my type of style would work today. You can't go and kick people like we did back then.
"Nicky never gives the ball away."
Featherstone has been at the club since 2014, and recently made his 250th appearance for the club, although his future is under question as he has yet to sign a new contract with Pools. 
Unfortunately, Honour suffered several injuries towards the end of his career which prevented him from adding to his 300-plus appearances for the club.
Since Honour's retirement we have seen significant progress in the way that injuries are treated and the ways in which players can recover from injuries which would have previously been perceived as career-ending.
According to the man himself, fitness tests in the 80s and 90s consisted of "running around the pitch and seeing how you feel." 
Nowadays, players and staff are much more knowledgeable about the need for a full recovery and rest periods between games, which has generally led to longer careers for football players. 
Honour suffered a particularly brutal knee injury which left him out for 18 months, but throughout his career he would do anything to get onto the pitch and help the team.
"There were a lot of times where I would take tablets just to get through training. Physios today wouldn't have let me play, but back then I would just play games and get injections at half time to help with any pain I had.
"People used to say to me that I'd suffer later in life for doing it, and subsequently that has happened. When I was 50 I had to get a knee replacement, and now I need a new hip."
Even though he might not have suffered so much pain in the aftermath of his playing career had he been more cautious with injuries, Honour says he "doesn't regret a thing."