Men's Football & Park pick up top prizes at annual Team Sunderland Sports Ball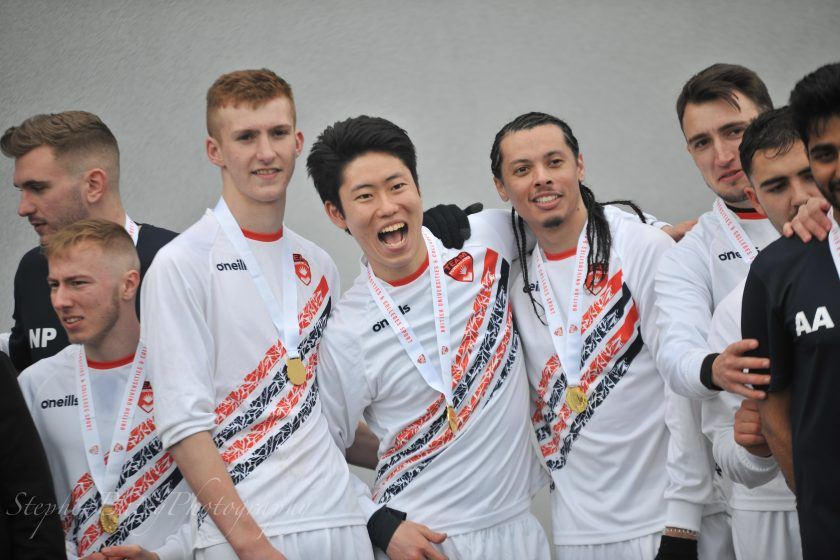 Team Sunderland hosted their annual Sports Ball on Friday online due to the current climate.
The ceremony took place on the Team Sunderland Facebook page and was streamed to students to enable them to celebrate a successful year of sport for the university despite the season being curtailed prematurely.
Men's Football took The Peter Fidler Award for Team of the Year while Cameron Park picked up his second successive Sportsperson of the Year award.
Taekwondo star Park, who beat off competition from Karate's Sufie Kudien and Badminton's Wilson Ngie Ding Lau, said: "I'm still completely shocked that I won. With winning the same award last year, I didn't think I'd be in the running again.
"I'm so grateful to be named Sportsperson of the year, I have to thank the university and Team Sunderland for everything they do to support me.
"It makes me even hungrier to get back to competing again."
Elsewhere Karate were rewarded for their fantastic performance at BUCS Nationals, where they won silver in the Team Kumite, with the Performance of the Year award.
Salim Salim, part of the silver medal winning squad said: "I would like to thank everyone involved in making it happen.
"We were very close last year as we were knocked out on the semi-final stage. This year, we wanted to get a medal in the event as we had put in so much work during training and we did just that.
"It was truly a special moment for all of us as a team."
Vice-Chancellor Sir David Bell appeared on the stream to present his Club of the Year award and selected Men's Football and Netball as joint winners.
Meanwhile James Clark was recognised for his role in leading Men's Football's 1st team to a league and cup double with the Coach of the Year award.
He said: "I'm delighted and humbled to win such a prestigious award. When I started at the university I couldn't imagine being in this position now.
"This award is really shared with all the players that played under me this year as if it wasn't for them working so hard the team wouldn't have had such unprecedented success."
The ceremony also paid tribute to two members who passed away this year, Thomas Jackson of Snowsports and Tom Brooks, the Men's Rugby coach.
It was fitting that one of Brooks' players, Mohammed Tarik, picked up The Ainsley Charles Award for Most Improved Individual.
Tarik was a complete rugby novice before this year and was rewarded for his hard work and dedication with the award.
He said: "I didn't think I would win, I'm not going to lie, as there were definitely others who were deserving of the award but it's awesome that I won.
"It shows that just taking part in everything and anything such as training sessions and games against other universities does help with team building and learning more about the sport.
"I personally don't think I would have won if it weren't due to the efforts of the team and coach, Tom Brooks, that taught me everything about the sport."
Men's Badminton and Women's Futsal were recongised for their league and cup wins respectively with the Most Improved Team of the Year award while Men's Basketball were awarded the Special Recognition award.
The ceremony can be re-watched on the Team Sunderland at University of Sunderland Facebook page or follow this link to YouTube https://www.youtube.com/watch?v=NpZxIMw9H60&feature=youtu.be.