Milwaukee Bucks sit out Game 5 in protest of Jacob Blake shooting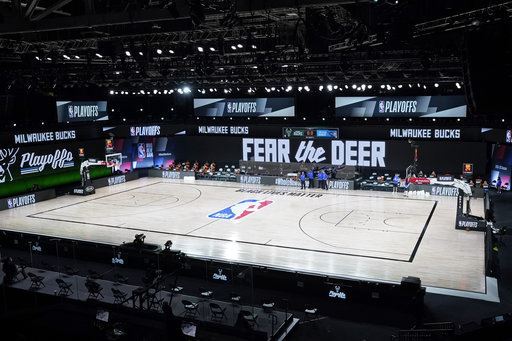 The Milwaukee Bucks decided to take the action of boycotting Game 5 of their first round play-off series with the Orlando Magic after the shooting of a black man in the Bucks' home state of Wisconsin.
29 year-old Jacob Blake was shot seven times in the back by a police officer in Kenosha, Wisconsin, as he was getting into his car where his children were present. An attack that has left Blake paralyzed from the waist down.
The Bucks had indicated to NBA officials that they would not take part in the game and did not take to the court at all, the Orlando Magic came out for their warm-up routine but left shortly before the game was scheduled to start and did not return.
Bucks guard George Hill said to reporters: "We're tired of the killings and the injustice" in the wake of the teams decision.
This comes after his press conference on Monday where he said: "We shouldn't have come to this damn place (NBA bubble in Orlando) to be honest. I think coming here took away all the focal points of what the issues are."
"This world has to change. Our police department has to change. Us as a society has to change. Right now we're not seeing any of that."
The shooting of Jacob Blake comes three months after the killing of fellow black man George Floyd in Minneapolis, an incident that sparked global outrage and protests against racial injustice, racism and police brutality in America and across the world.
In a joint statement, the Bucks players said: "Over the last few days in our home state of Wisconsin, we've seen the horrendous video of Jacob Blake being shot in the back seven times by a police officer. Despite the overwhelming plea for change, there has been no action, so our focus today cannot be on basketball"
Marc Lasry, Wes Edens and Jamie Dinan, the Milwaukee Bucks owners, issued their own statement of support: "We fully support our players and the decision they made. The only way to bring about change is to shine a light on the racial injustices that are happening in front of us. Our players have done that and we will continue to stand alongside them and demand accountability and change."
The league's players had hoped that the NBA restart would be a perfect way for their voices to be heard on such an important topic. Some players have opted to have poignant messages on the back of their jersey either accompanying or replacing where their names that would usually be, in hope that their message could be heard and conveyed to the public audience.
Many have spoke out on these issues in media sessions; on the eve of the league's resumption, Philadelphia 76ers' Tobias Harris held a 59 second pre-match conference where he had one message: "Justice for Breonna Taylor", a black woman shot and killed by police in her apartment in Louisville, Kentucky.
After the series tying win against the Houston Rockets, Oklahoma City guard and President of the National Basketball Players Association, Chris Paul dedicated his post game interview to Jacob Blake and his family before demanding change.
Even before the league resumed Nets guard Kyrie Irving announced he would be sitting out the rest of the season, claiming that he felt the bubble was a "distraction" from what's happening and was quoted saying: "I'm willing to give up everything I have (for social reform)."
In the aftermath of the Bucks' decision, former NBA player and coach Sam Mitchell delivered a series of powerful messages on NBA TV, he said: "This is more important than basketball, this is our lives."
"If you don't talk about it, if you don't smack people in the face, then they don't realise, it just goes away. And I think the players are frustrated because they didn't see anything change."
"These guys have family members and friends that are struggling because of this (racial injustice). Our lives have significantly changes because we're athletes and coaches so we get treated a little different."
"But it never goes away. It does something to you when you see people who look like you not being treated fairly and you are, but the only reason you are is because you're an athlete. And it does't sit right with us because before I was a basketball player, or a coach, I was a black man."
The other two games scheduled for the day, Oklahoma City Thunder against the Houston Rockets and the LA Lakers against the Portland Trail Blazers have both followed suit and sat out their games too in solidarity, with others in coming days looking likely to follow.
The NBA has announced that they have invited every single player to an emergency meeting in which they will discuss how to proceed after the strike decision.