F1 Belgian Grand Prix 2020: Lewis Hamilton leads from pole to flag to win in Belgium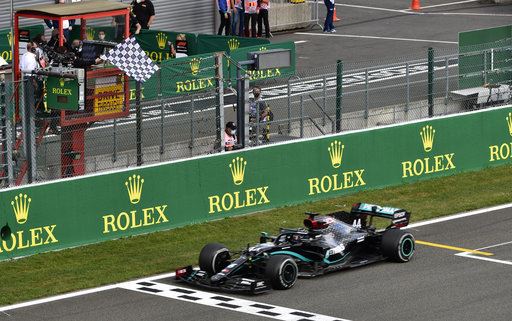 The early safety car hadn't affected the Mercedes drivers as Lewis Hamilton led from pole to the chequered flag to secure a one-two finish in the Belgian Grand Prix.
It was a clean start in this years Belgian Grand Prix as the Mercedes duo filtered into La Source (turn one), followed by the rest of the pack going two by two through the apex. Fortunately, no drama unfolded throughout the first lap at Belgium's Spa-Francorchamps as Lewis Hamilton was the first to cross the line.
But, there were more apparent woes for the two Ferrari drivers as Charles Leclerc had gotten himself into the points in the early stages of the race. However, he had fallen down the grid to 12th, just a second ahead of his teammate Sebastian Vettel, as we approached the second quarter of the race.
Antonio Giovinazzi, Alfa Romeo, suddenly lost control of his car on lap 11 as he ended up in a collision with the barrier. However, George Russell, Williams, who had witnessed the Italian's trouble, tried to avoid the situation but hit a loose tyre from the Swiss outfit and ended up in the wall himself. This prompted the only safety car of the race.
10 laps after the race had gotten back underway, when the safety car returned to the pits on lap 15, it had grown into a three-horse race as Max Verstappen (Red Bull), Valtteri Bottas (Mercedes) and Hamilton were more than 20 seconds ahead from Renault's Daniel Ricciardo, who had the pack behind him.
According to the AWS insights, the tyres were falling off the cliff for the likes of Verstappen and Hamilton, as it was reported they had 10-20% of tyre performance left on their cars – with six laps to go.
Despite this, it remained unclear if the top three drivers (Verstappen, Bottas and Hamilton) would commit to a two-stop strategy in the dying embers of the race.
Podium
Lewis Hamilton (Mercedes)
Valtteri Bottas (Mercedes)
Max Verstappen (Red Bull)