American Football – Is it becoming the UK's sport?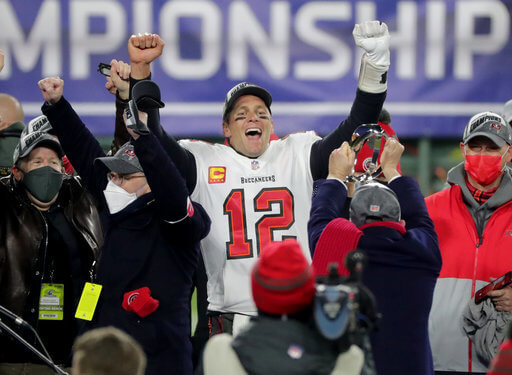 The beginning of February marks one of the most important dates in the sporting calendar as the Super Bowl takes place this Sunday.
Veteran quarterback Tom Brady will be leading the Tampa Bay Buccaneers on home turf against last year's champions, the Kansas City Chiefs.
With millions tuning in every year to watch in America, the National Football League (NFL) also has a healthy audience in the UK. Last year BBC figures showed that their Super Bowl coverage between the Chiefs and the San Francisco 49ers drew in a peak audience of 3.9m viewers.
President of the University of Sunderland American Football team and Green Bay Packers fan, Ben Jefferson, says that since joining the team, he has found that more people are wanting to join.
"I think while there has been an increase in people wanting to join, there's also been more of a difference in the amount of people joining that actually have experience with the sport- whether that is playing or watching."
Jefferson attributes this interest to an increase in media coverage in the UK. University of Sunderland and Gateshead Senators coach, Adam Wilkin, also agrees the media have a part to play in the NFL's popularity.
Wilkin, who hosts his own NFL podcast, Britballin, suggests that American Football's popularity has flourished with more coverage from Sky Sports, evident through their dedicated NFL channel.
Sean Wilcock, a coach for the University of Sunderland and Gateshead Senators team also said that the NFL has experienced a resurgence in the UK regarding media coverage.
"The 80s and early 90s were certainly regarded by some as the highlight of the sport in this country in regards to sponsorship, players coming from abroad, thousands attending games and thanks mainly to the coverage the NFL had on Channel 4.
"Through the mid-2000s we saw a resurgence in participants in the sport and since the NFL started playing the London games in 2007, interest improves each and every year."
The London games have been a key area for the NFL to attract interest from UK audiences. With that in mind, Tottenham Hotspur's new stadium was designed with a retractable pitch to accommodate both football and American football games.
Wilcock also argues that part of American football's attraction is due to its similarity to rugby.
"The similarities between American football and its roots in rugby give people enough of a familiarity for them to feel comfortable enough to give it a go.
"I've never enjoyed playing or coaching a sport like I have American football."
Wilkin suggests that more people are getting involved in the UK due to the inclusivity of the sport.
"I think more people have got into American Football because the athletes come in all shapes in sizes. Even someone like myself can see themselves in the kit and not look too out of place.
"For students, I feel that they get involved as a way to make friends and are able to find a position that suits no matter what their ability, which always helps."
The opportunity to get involved at any ability is something that Nathan Chatterton-Sherburn, a cornerback for Newcastle University's American football team, found appealing.
"I was interested in American football before I started playing and wanted to get into a sport at university so I thought I'd give it a go.
"I enjoy the physicality of it and that it allows you to switch off from everything else going on while you're playing, as well as the camaraderie of the team."
The Super Bowl is itself an event, with many people hosting parties with friends and family to watch the game. Due to Covid-19 restrictions, Jefferson said the club had been considering alternative viewing options:
"We've been discussing some games we can play but it's tough this year as we normally have quite a big event for it- last year we got over 100 people coming to a bar to watch the game."
Wilcock says the Senators are in a similar position, and due to current circumstances some players have organised Zoom and Teams meetings to watch together.