Lee Johnson pre-Tranmere press conference: 'Concentration has to be on winning the match, first and foremost'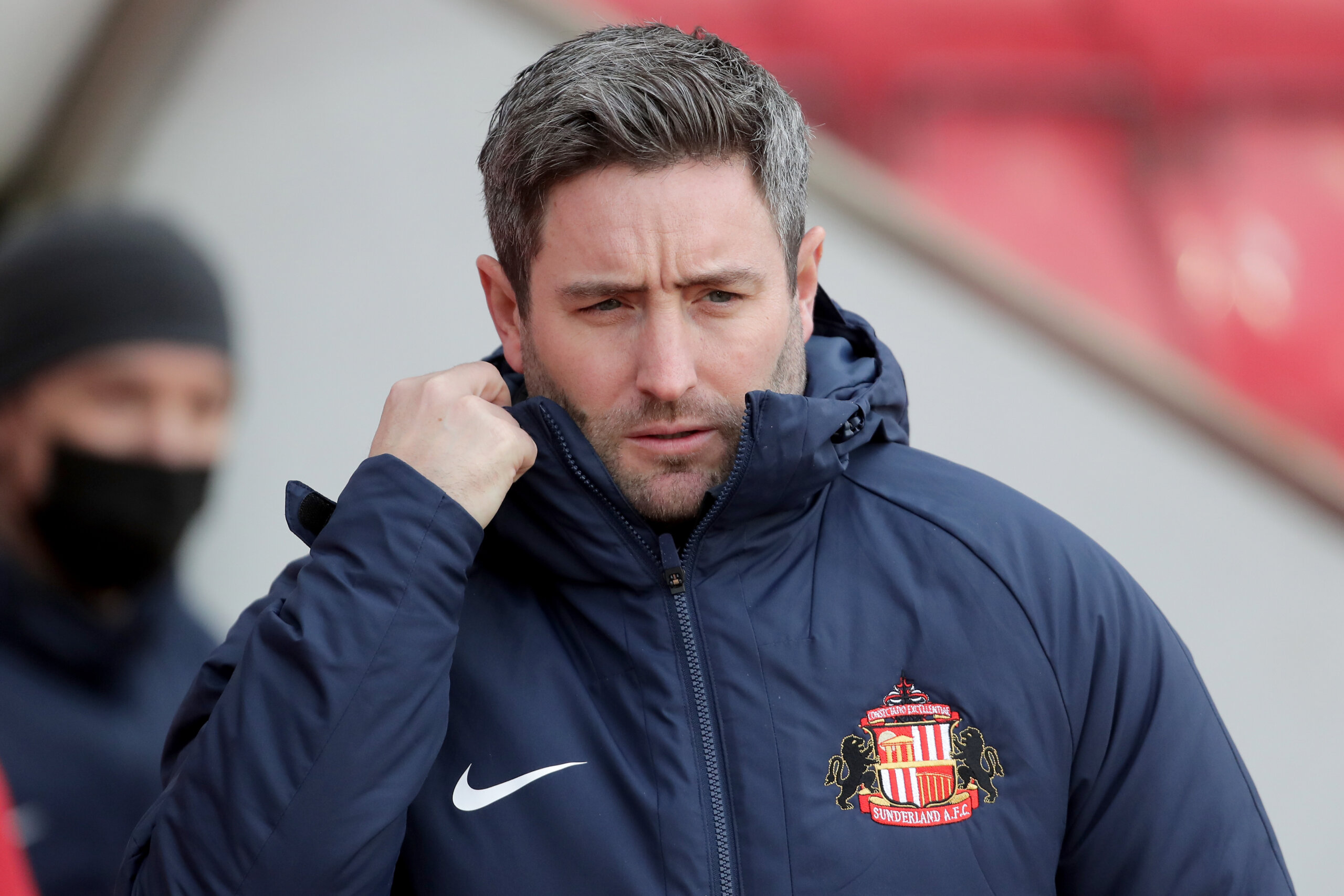 Sunderland head coach Lee Johnson spoke to the digitally assembled media on Friday to preview Sunday's Wembley meeting with League Two promotion-chasers Tranmere Rovers in the Papa John's Trophy final.
The 39-year-old spoke on the absence of fans, the Black Cats' Wembley record, injuries and the digital ticket scheme for the match – which, at time of writing, is estimated to have raised about £138,000 for charities, including The Salvation Army, Sunderland Foodbank, Washington Mind and the Foundation of Light.
You can read each question and answer from the press conference below…
Q: First of all, can I ask you about what it will mean to you to be leading out a team at Wembley? Obviously, you took Barnsley to the final of the same trophy but didn't actually appear at Wembley, so it must be something special for you?
A: Absolutely. I think that it's a proud moment individually but also, mainly, for the club and for the players. I think the players have worked so hard. As a player in the lower leagues – and we are currently in the third division of the pyramid – it might be your only chance to get to Wembley and the ones that haven't played at Wembley for Sunderland really have got a chance to make it very very special. Whatever happens, when you're successful, you build a real big bond with those set of players and I think that, for me, my experiences of success were definitely based on the relationships and the longevity of those relationships after winning those particular cup finals. So, yeah, it could be a great day for us but, of course, the concentration has to be on winning the match, first and foremost.
Q: Winning the match without any fans, though?
A: Yep, something that obviously we're not happy about but at the same time it has become par for the course at the moment in terms of we feel the support, definitely, but obviously it is from afar. And it's difficult times for everybody at the moment. There's no doubting that and actually we're very lucky to be able to go into work and see our friends everyday. So, in the hope that we can perform and give our fans back just a little bit of happiness – and that will only be if we come back with the trophy.
Q: And, again, winning the match, that would be a novelty because the last eight – seven or eight, there's a dispute as whether you count that game in 1988 as a legitimate Wembley appearance – but, lost all those games, so do you feel a weight of history on your shoulder type thing?
A: I don't – I've only been here four months. No, I don't feel any weight of history. I think, in terms of like a new regime, if you like, coming in, I think it's the first and that's the way we're looking at it and we want to do well for everybody. We want to do well for ourselves. I don't know my history anywhere near enough yet for the football club. I'm actually looking forward to learning a lot about the history because it's been so thick and fast in terms of the games and the turnaround, I haven't had the chance. So, I like my history and I like to know exactly what's gone on in the past, but I think it might be a positive that I haven't looked too much into it, given obviously the likes of yourselves. Some even believe it's a curse and I certainly don't believe in that.
Q: But, is it a distraction this competition from what is the main point of this season, which is promotion?
A: No, not a distraction. Good, next game. I think that's the mentality we have to take. We've got full respect for a good Tranmere side. They're competing very very well in their division – got a lot of experience. But, listen, it's here. The reason we competed so hard and so well in the earlier rounds is for this moment. And now you've got to perform mentally and physically when it matters most.
Q: You're going to go into this game as very much the favourites. Tranmere a league below you, so how do you guard against complacency?
A: I don't think the boys will be complacent. I think that we respect Tranmere. You can only be at the top end of the division you're in and Tranmere are at the top end of their division because they're one of the best sides in the division so, often, that transcends into at least a sort of mid-table type position for most clubs in League One as well. And, often, the League Two clubs can get the top strikers. Like they've got [James] Vaughan who's very experienced – I know he's out injured – and they've got [David] Nugent who's obviously had an unbelievable career, they've got [Peter] Clarke, they've got [Liam] Feeney. All these boys have been really experienced at Championship level.
Q: The fans can't be there but the fans have taken it upon themselves with this very clever ticket scheme to raise money for charity as kind of part of the buildup. What do you think about that? Cause they've raised an awful lot of money.
A: First of all, I think it's genius. I mean, what a great idea. And I think it just shows the quality and the class of the Sunderland fans. You could understand if it was like five-six thousand pounds but to go to the levels that people have gone to. I think is a really novel and great idea. Even the fact that my family will be watching it at home – I've sent them their virtual tickets. It just gives you that feeling that you've got the memento. You know, there's a programme that comes out and you can be really absorbed in the game itself. And, of course, for local charities the benefit is amazing. Given, I'd have thought, it would have been difficult times for charities in these moments because people obviously look after their pennies and have to keep them closer to home.
Q: What about team news then? Have you got any defenders?
A: Yeah we are slightly depleted but we're hopeful, obviously, of a couple returning. Conor McLaughlin should be back if we need him, if selected. So that's an important one there. Bailey Wright is out. Denver Hume is nearly there. Probably comes a little bit early for him, this game. But I've been very pleased with his movement and his progression over the last couple of weeks. I think that's it for defenders isn't it? You know, Jordan Willis is obviously out long term and so is Harvey.
Q: Further forward, Aiden O'Brien obviously came off a bit early at Portsmouth. What's it looking like for the rest of the team?
A: Yeah, we'll have a look at O'Brien tomorrow. Obviously matchday minus one – try and leave it as long as possible and then have a good look at him – basically given him a fitness test tomorrow.
Q: Obviously, everybody's got used to the strangeness of football over the last year. Is this sort of strangeness dialled up to the maximum though? Playing for a cup final at Wembley with no one there?
A: It is because we'd much prefer, obviously, everybody there. Even the little moments I've seen on TV from like when McGeady scored against Portsmouth. You know, I think it's almost forgotten how that electricity of the fans can really charge the stadium, you know, and actually getting that feeling back will be really interesting and really good. And I for one, as new Sunderland Head Coach, just can't wait to feel that power, if you like, from the fans.
Q: If it goes well on Sunday, surely this only adds to the pot of confidence for the rest of the season?
A: Yeah, it's the next game and we want to win the next game and then we want to win the next game after that. I think the squad has been so impressive in terms of the flexibility, obviously the understanding – the team ethic really. And that one brain of the team was epitomised probably in the last game. But we've showed that we can spring various formations on various teams. We've got goals in us and we've kept a lot of clean sheets as well, so a lot of positives. It's not about guarding against complacency, it's about – keep chipping away and improving, as per the philosophy. And I think that when I look back at the best practice from the Portsmouth game, there were some fantastic clips in there. With the ball in play about 60 minutes, I think there was about 26-27 minutes of top clips – both defensive protocol and attacking play as well.