George Sephton – the Voice of Anfield – talks us through his 50 years as Liverpool FC's stadium announcer.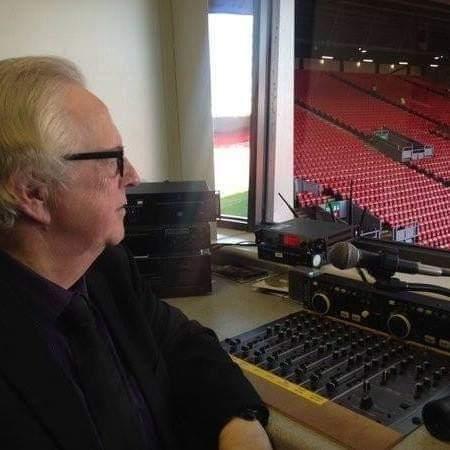 "She just looked at me deadpan and said: 'It's alright for you, standing down here. You couldn't do any better,' and I looked at her and thought: 'Well, actually…'"
George Sephton's distinct recollection of this interaction with his wife inside Anfield in April 1971, is a reflection of its long-term value.
His criticism of the then stadium announcer had cued that comment and, ultimately, it would lead him to write to Peter Robinson, the Club Secretary at the time, to express his interest in the role.
It worked. He took it up four months later – and it's one he still holds today. It shows where proactivity can get you.
August 14 will mark exactly 50 years since he made his debut behind the mic for a 3-1 victory over Nottingham Forest on the opening day of 1971/72. The same day, in fact, that Kevin Keegan played his first game and scored his first goal for Liverpool.
"He's travelled the distance from Shankly to Klopp and all of the different owners and eras in between," reflected Steven Scragg, an Anfield season ticket holder who also writes for These Football Times and independent Liverpool FC website This is Anfield.
As you would expect, he's got some tales to tell.
From Saint-Étienne 1977 to Chelsea 2005, and Borussia Dortmund 2016 to Barcelona 2019, he's been a part of some superb occasions at the famous old ground.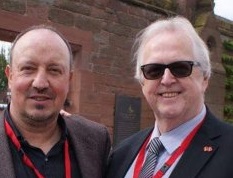 The eye-opening stories begin before his Anfield days altogether, in fact.
Born in February 1946, George was just a few years younger than another group of well-known Liverpudlians, and he crossed paths with a couple of them at school.
"We had a rule – if it was raining at lunchtime and you couldn't go and kick a ball around in the school yard, you had to go and get a book and sit in the big hall.
"And my pal and I – we'd do that once in a while – but, most of the time, we'd go and sneak down to the upper basement and in one of the physics lecture rooms, there was these big boys playing guitars – practising chords basically.
"One of them was called George Harrison, another one was called Paul McCartney."
A preview of what was to come from The Beatles – quite the lunchtime venture.
George first attended Anfield as a supporter on January 30, 1960, with friends from school.
"I picked my timing very well because Shankly had been in charge for just over a month and everything seemed to change from there," he explained.
Liverpool were, indeed, on the up. They were promoted to the First Division in 1962, won it in 1964 and 1966 and also secured their first FA Cup in 1965.
Attending a football match was a very different prospect in those days. The terraced Kop could be a genuine physical challenge.
"Twice in my career on The Kop I ended up with cracked ribs and one particular time I was in a really bad state – I spent a few weeks strapped together. But when people say I'm spoilt nowadays, I say 'Yeah, but I deserve it because I did my time on The Kop' – you can't take that away from me," said George.
Those years on the terraces may well have proved helpful.
"What he does is, he tempts the crowd into coming to life. But he's been brilliant at that for so many years.
"He knows the traditions as well and – the good thing is – he knows what Liverpool fans don't like, which is just as important as knowing what they do like," said Steven.
George's deep, composed tone has long been associated with Anfield and is viewed as one of his – and indeed the stadium's – most recognisable traits.
"Somebody said I'm like a warm blanket or something a while ago. And I thought: 'That fits fine,' said George.
"I do shout and scream once in a while, when I would have done anyway. Occasional goals that win trophies for us and whatever. You know, Stevie Gerrard when he scored the goal against Olympiacos in 2004/05 – kept us in the Champions League.
"There's a video on YouTube somewhere and I just went ballistic. I was just so excited and people were saying to me afterwards, 'Are you alright?'"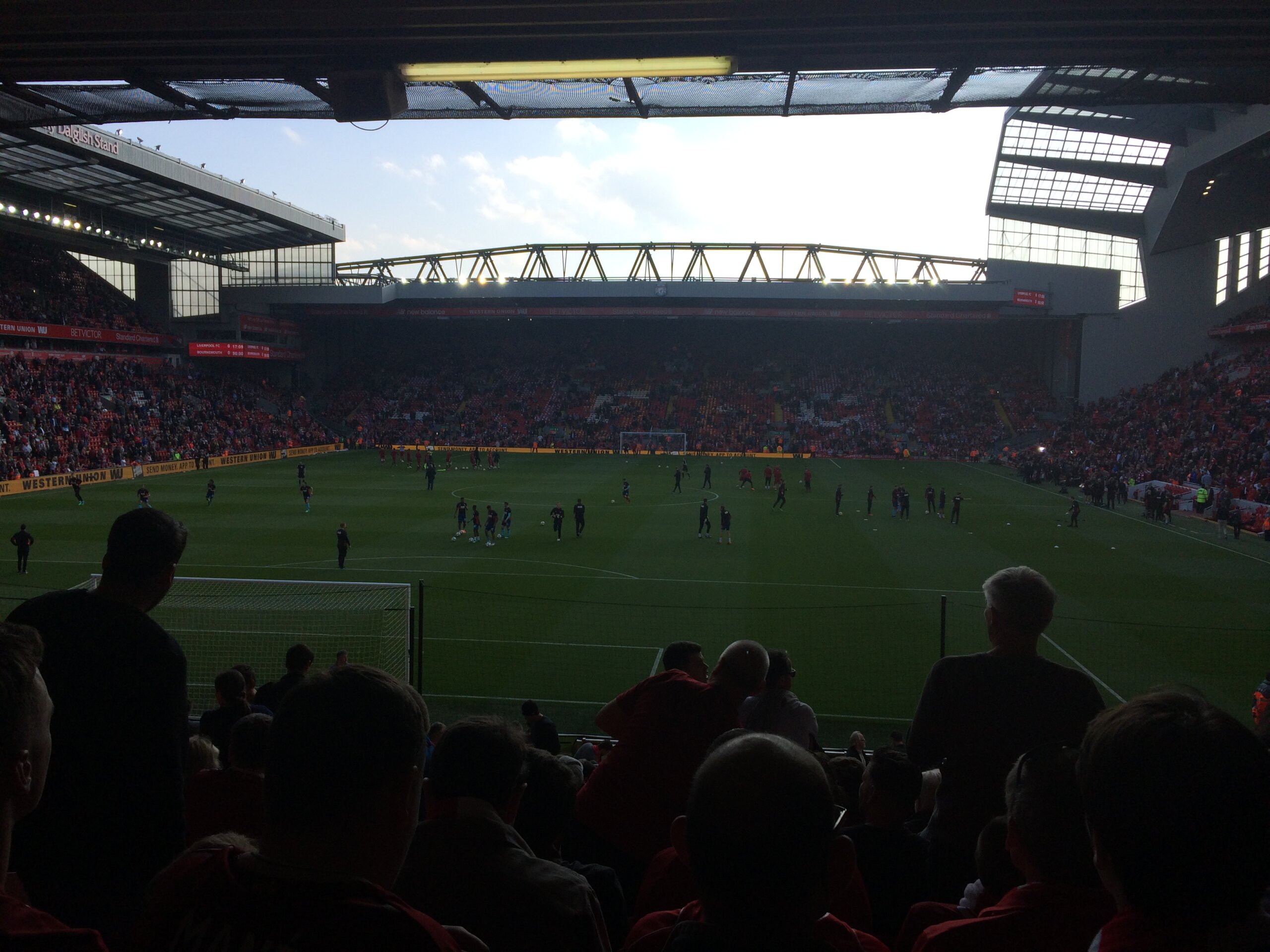 His consistency on a stylistic level is one of the things that has marked him out over the years, but he has also adapted.
Matchday tunes have moved from vinyl to memory stick and he continues to do his best to help local artists up the ladder by playing their music to thousands inside Anfield or – at present – those watching or listening from home.
The Coral, The Zutons, and Atomic Kitten are just three of the Merseyside bands he has helped propel.
Interestingly, he's also only announced goalscorers since the start of 2000/01, when he began to share announcement and DJ roles with the late Phil Easton of Radio City.
So what about the highlights?
"Luckily that's easy now. Barcelona in 2019 was the absolute highlight. I mean obviously you look back to Saint-Étienne, which was a fantastic night. Atmosphere was great, the outcome was fantastic the way it happened.
"Then Chelsea 2005 semi-final in the Champions League – and you think nothing will ever better this. But Barcelona in 2019 just knocked it all into the long grass," said George.
"If I close my eyes now, I can still see Trent putting the ball down, walking away and suddenly turning back. It was only Divock Origi who appeared to be awake in the middle," he remembered.
That night, alongside the 2020 Premier League title win, have ensured the club has now won six European Cups and 12 league titles in his near 50 years behind the mic.
Many of the moments behind those successes will doubtless be included in his book, charting his half a century in the role.
That proactivity continues to serve him very well.