Comparing Sergio Perez against Alex Albon at Red Bull
Sergio Perez has held the second Red Bull seat for almost a full season so it is worth comparing his efforts against the previous holder, Alex Albon, to judge whether Red Bull made the right choice swapping drivers.
Perez capped off a fine comeback at Doha on Sunday evening, finishing P4 to make up for a disappointing Saturday qualifying where he was knocked out in Q2.
And Albon, who was dropped ahead of the 2021 season, was named reserve driver for Red Bull in Max Verstappen or Sergio Perez' absence though a move to Williams to compete on the grid next season vacates his current role.
In the interests of consistency this piece focuses on Albon's 2020 season as it gave him a full calendar of races to compete, against Perez' 2021 record.
It would be unfair, however, to compare at face value his qualifying stats for instance against team-mate, Max Verstappen, because the gulf in quality is noticeable.
They are useful for the constructors' championship fight while offering protection for Verstappen from Mercedes' Lewis Hamilton and Valtteri Bottas – rather than being title contenders themselves.
It is hard not to reflect on Pierre Gasly's role, too, at Red Bull in the first half of 2019 when assessing Albon especially.
---
Alex Albon

Albon, the second Thai driver in F1 history, replaced Gasly at Red Bull in August 2019 ahead of the summer break that season. Gasly returned to sister-team, Toro Rosso where he drives currently.
His 2019 season compared to Gasly was steady to say the least.
Consistency was key for Albon as he picked up vital points in all-but-one of his nine races for Red Bull; a P14 in Interlagos in the penultimate race.
The statement confirming Albon's swap read: "The Team will use the next nine races to evaluate Alex's performance in order to make an informed decision as to who will drive alongside Max in 2020."
It is with that in mind that he was offered the second seat for the 2020 season.
There were shining moments that year, including two podium finishes in Tuscany and Sakhir and points-collecting in all-but-six races.
But he finished the campaign 7th in the World Drivers' Championship, though joint with McLaren's Carlos Sainz.
It was thought that even if Red Bull's RB16 couldn't compete for titles (Verstappen's five retirements in 2020 cost him significantly though he picked up podiums every race except one otherwise) Albon would fare better in that car.
Mercedes was tipped as the strongest car that year and it showed, as Lewis Hamilton swept the grid away to a joint-record seventh drivers' championship.
His team-mate, Bottas, finished 9 points ahead of Verstappen and a further 118 points in front of Albon.
And according to Stats F1, 67% of Red Bull's points in 2020 were picked up by Verstappen, leaving Albon with the remaining one-third of points.
Albon's average starting position was P7 (7.18 before penalties were applied, 7.18 after penalties were applied) according to Race Fans.
Albon never beat Verstappen in qualifying which is to be expected to a certain extent, but a whitewash does him few favours.
And in qualifying, Albon was eliminated (with the season's second best car according to points gained in the constructors' championship) in Q2 – determining the top 10 drivers each session – three times. He reached Q3 14 times.
In terms of laps led, Albon only has one to his name which made up 0.1% of that season's laps.
Finally on average, on the first lap of races Albon lost -0.82 positions, cumulating a net loss of 14 positions in 2020.
Sergio Perez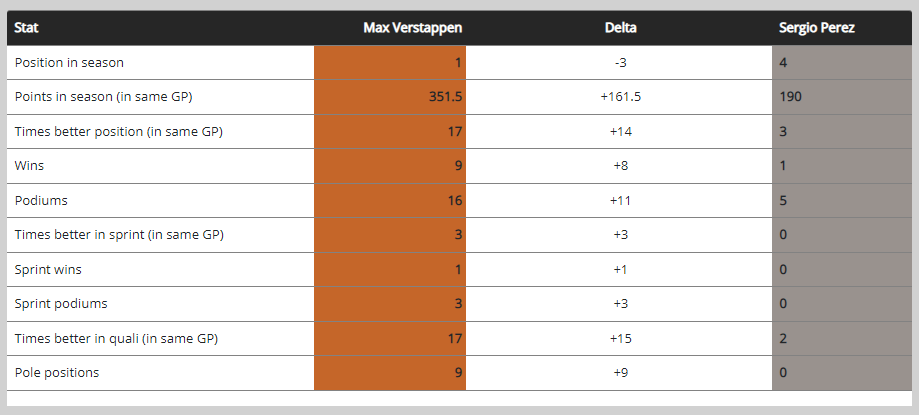 Midfield king, Perez, took Albon's seat ahead of the 2021 season and it is fair to say there has been improvement.
Perez ranks 4th in the drivers' championship on 190 points, and is 37 clear of McLaren's 5th-placed Lando Norris.
This marries with the belief that the second-best car on the grid according to constructors' points (Red Bull are 11 behind Mercedes as of writing) should have its drivers in the top four of that championship.
At only Hungary this season did Perez retire, which ties his number of retirements with Albon.
Perez made the podium more times than Albon, including a race win at Azerbaijan. His other four podiums were at France, Turkey, America and Mexico – those last three were back-to-back-to-back.
A string of third places have been followed up with two consecutive fourth places showing consistency is his strong point recently.
This arguably could not have been said before Turkey as his form, to put it one way, was patchy at times. At Silverstone, Hungary and Belgium he finished 16th and 19th, retiring in between.
Perez needed that consistency recently to placate concerns whether he was the right choice for Red Bull but those fears have been soothed by his recent strong performances.
He has taken the RB16B, an updated tweak of the existing RB16 model Albon drove last season, in his stride.
Although Perez is 161.5 points behind team-mate, Verstappen, Bottas' third place is up for grabs as he is only 13 points away.
With two races in Saudi Arabia and Abu Dhabi remaining there could be a further twist in the fight for third.
Similarly to Albon, Perez has picked up 37% of Red Bull's points this season but it must be stressed Verstappen is currently leading a title charge, it's more to be expected than if both drivers were completely off the mark.
Perez' average starting position has been 6.5 this season which is a noticeable gain from Albon last season, although this drops to 7.33 once penalties have been applied.
In a contrast to 2020, Perez has beat Verstappen on one occasion in qualifying even if the average gap between the pair is 0.548s in Verstappen's favour.
Perez is famed for 'making it up in the races' and his qualifying data shows, for he was eliminated once in Q1 and once (last week) in Q2, but he has made Q3 16 times.
Even if that is the case, his starts have been weak. An average drop of -0.71 places, a net negative 12 places in starts this season, shows Perez must be strong at overtaking to make up lost ground.
Perez has led 40 laps this year – including his infamous win at Azerbaijan in June – making up 3.77% of laps this year. Compared to Albon's one lap lead, 0.1% of the season, the difference is striking.
Because Red Bull have the second-best car, and did last year, it is fair to compare the number of laps spent in the top four places on the grid.
For Perez this is (40+45+188+277) 550 laps whereas for Albon it was (1+2+80+192) 275. Keep in mind the season is not finished yet.
Verdict
Sergio Perez was definitely the right choice by Red Bull and it is exciting to see how he will fare next year, with the new-regulation cars.
With no disrespect intended for Albon or Gasly before him, they weren't ready for the second seat. Maybe they needed more time to adjust or using themselves as a barometer against Verstappen wasn't helpful but Helmut Marko can feel vindicated that his latest driver gamble paid off.
At least for the time being. Next year brings all sorts of new changes which are impossible to predict.
On that front it is a blank canvas for all teams so no pre-determinations have been made just yet for future championship hopes, Red Bull or otherwise!