Newcastle U21 manager Elliot Dickman praises 'pleasing' performance despite late equaliser from Sunderland 'keeper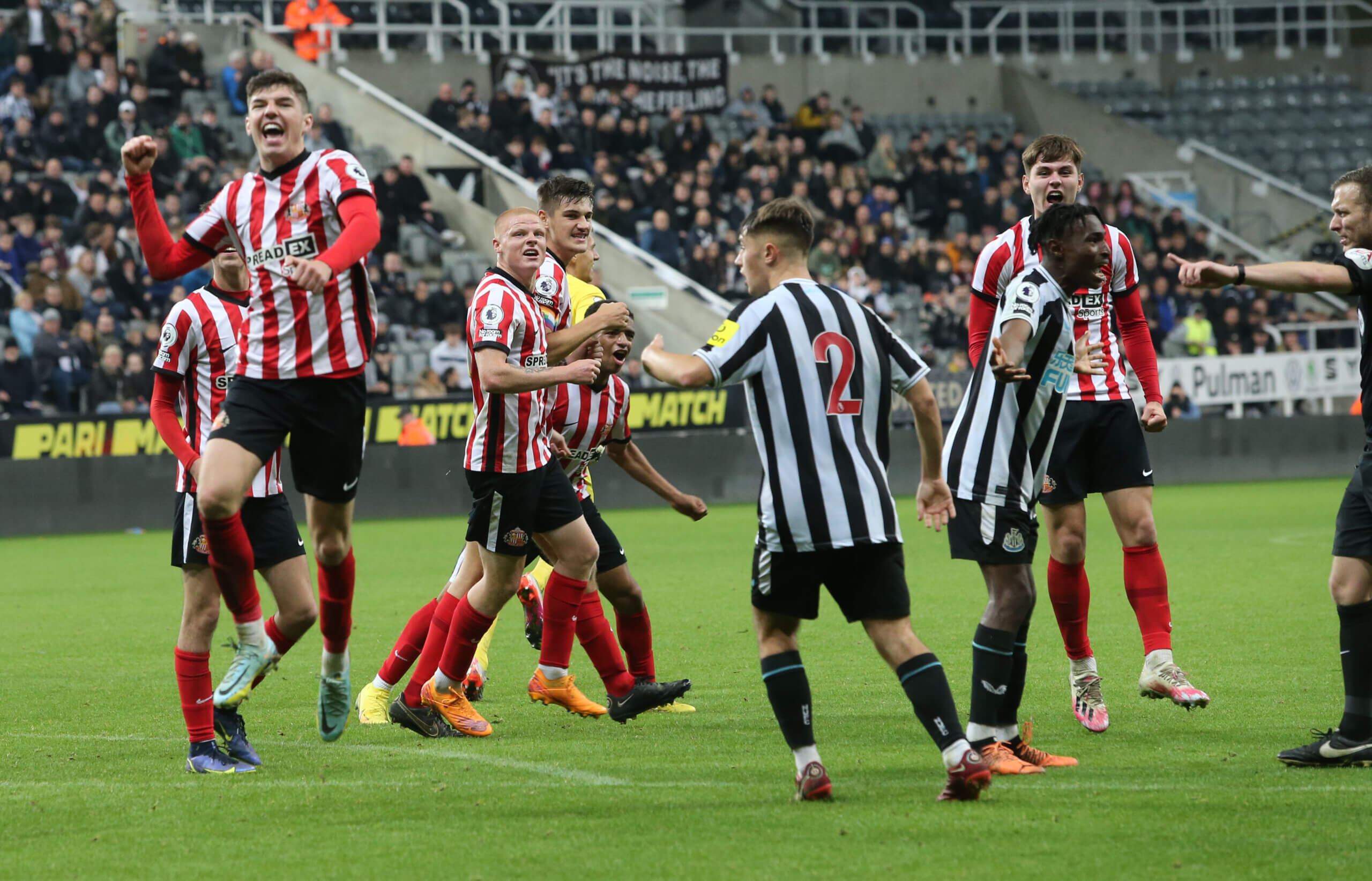 Newcastle United were denied victory in the dying moments of last night's feisty U21s derby clash against Sunderland via a controversial equaliser from goalkeeper Alex Bass.
Newcastle took the lead towards the end of the first half through Joe White, but spent the final minutes of the game camped in their own penalty area after former Sunderland man Jay Turner-Cooke was shown a second yellow card after a scuffle in the Sunderland penalty area.
They managed to hold on until the 94th minute when Costa Rica international Jewison Bennette's corner was met by Bass who headed off the post and bundled in the rebound.
But Bass revealed after the game that he converted with his hand, saying: "I have to admit that I handballed it, I didn't think it was going to be given."
The goal delighted the travelling Sunderland fans, who made themselves heard in a crowd of 2,511.
Newcastle manager Elliot Dickman spoke about the whether the crowd had an impact on his players, telling SportsByte: "I think it's something different that they've maybe not experienced. It's important that they learn from it and I think a lot of the lads have definitely benefitted from the experience tonight."
Despite the late concession, Dickman was fairly pleased with the performance, saying: "Parts of it were good, it was difficult at the end with 10 men but in general, there's areas of our performance that were pleasing. We've got to remember that we haven't lost the game tonight and I thought the work ethic from the group was good."
Dickman also spoke about some of the individual performances, saying: "Jude (Smith) has had a good season since he joined us, he's made some good saves and that's one of his strengths I terms of shot-stopping. We've been really pleased with him. He's a young player and there's areas of his game we want to help him with.
German-born striker Isaac Westendorf seemed disappointed to be subbed off without scoring, but Dickman was pleased with what he saw from him.
He said: "Isaac is doing fine, he's had an injury that has kept him out for a period of time. He does have qualities like all the players and we want to keep using those qualities that he has. He's a big, strong lad, we want to get the ball to him a bit more and he's maybe got to look after it a bit better, but he does possess a threat because of his physical presence."
Joe White scored his second goal in two games, and Dickman was pleased with his development, saying: "He is making progress. I think the last few games he has shown the quality that he possesses and he's gone past players comfortably. He's in a good place but he's got to keep getting better at certain aspects of his game to help make that next step."