Qatar 2022: Thrills, spills and VAR: the Story of the Group Stages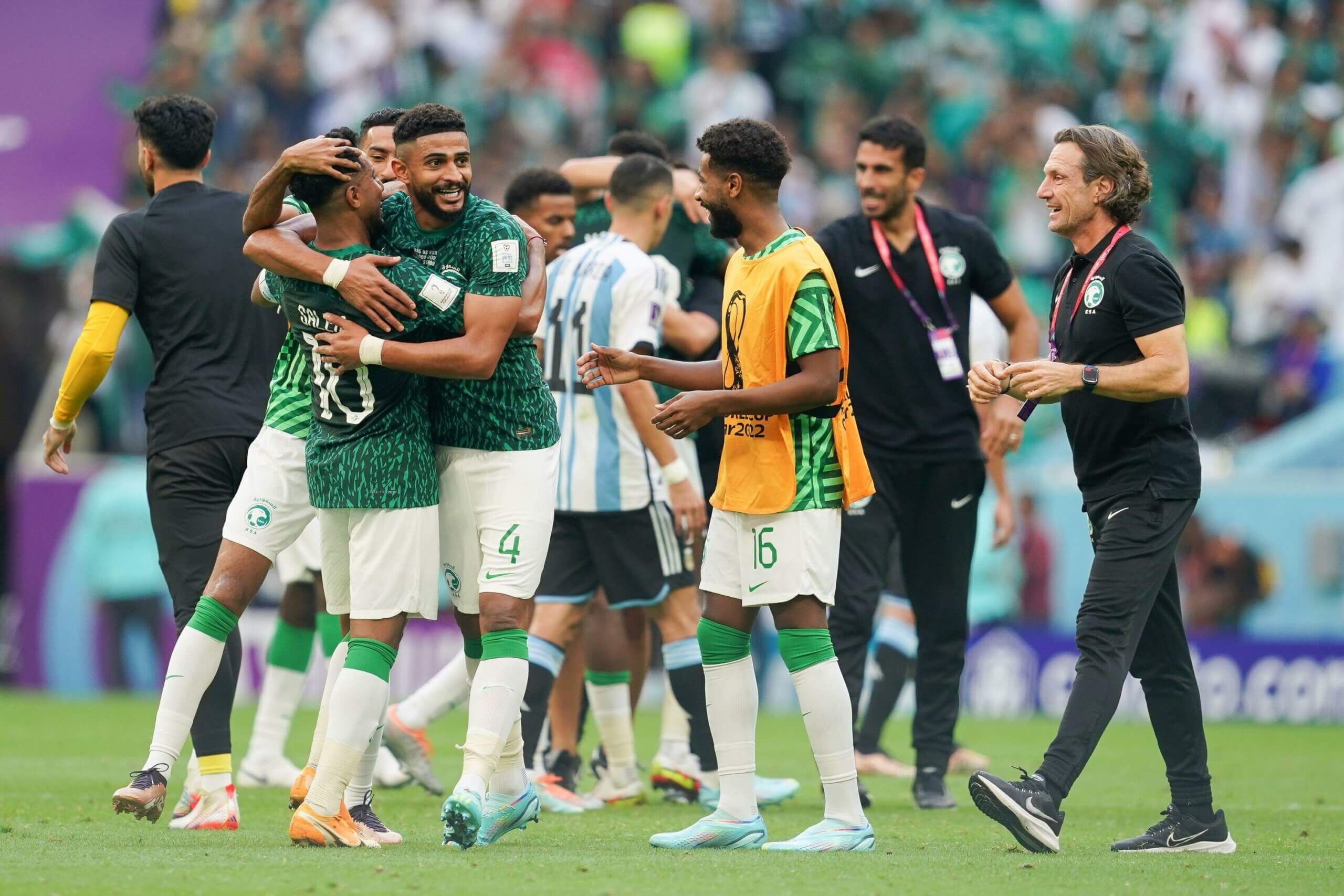 The World Cup group stages have provided some great moments in past competitions. But Qatar 2022 may just have provided the most dramatic opening 13 days in the history of the tournament.
Here, we look back at how the first tournament's 48 games panned out in a way nobody expected.
Group A
The Netherlands topped the group with seven points, closely followed by Senegal who beat Ecuador in the final group game 2-1 to make it to the knockouts. Qatar finished rock bottom on zero points to become the only host nation ever not to get out of the group stages.
Who's through: Netherlands and Senegal
Who's out: Ecuador and Qatar
Results:
Qatar 0-2 Ecuador
Senegal 0-2 Netherlands
Qatar 1-3 Senegal
Netherlands 1-1 Ecuador
Qatar 0-2 Netherlands
Ecuador 1-2 Senegal
Highlight: Ecuador's opening night win over Qatar featured the first of many controversial VAR moments, as the South Americans saw what many regarded as a perfectly good goal disallowed for offside.
Group B
At least England made reasonably stress-free progress as expected group winners.
An impressive 6-2 victory over Iran and a 3-0 defeat of Wales book-ended an uninspiring but non-damaging bore draw against the USA.
It was the Americans who finished second in the group to make it out of the round of 16 for the first time since 2014 by beating Iran with a single goal by Christian Pulisic in their final group game.
Wales' excitement in their first World Cup finals appearance in 64 years briefly survived as they salvaged a draw against USA in their opening game, only for two poor performances against Iran and England to leave them bottom of the group.
Who's through: England and USA
Who's out: Iran and Wales
Results:
England 6-2 Iran
USA 1-1 Wales
Wales 0-2 Iran
England 0-0 USA
Iran 0-1 USA
England 3-0 Wales
Highlight: England's attacking performance against Iran was a thrilling sign of what they are capable of when let off the leash.
Group C
Beginning with unforgettable drama , Group C was chaotic.
It started with one of the biggest shocks in World Cup history as Saudi Arabia came from behind to stun Argentina. But that was as good as it got for the Saudis, who would finish bottom of the group after defeats by Argentina and Poland.
Argentina gathered themselves to beat Mexico 2-0, and then saw off Poland by the same margin to top the group, despite Lionel Messi missing a penalty.
Mexico were hoping to make it out of the group for the seventh consecutive World Cup in a row, but their defeat to Poland – and ill-discipline proved crucial, as the Poles went through despite defeat against Argentina by virtue of earning fewere yellow cards.
Who's through: Argentina and Poland
Who's out: Mexico and Saudi Arabia
Results:
Argentina 1-2 Saudi Arabia
Mexico 0-0 Poland
Argentina 2-0 Mexico
Poland 2-0 Saudi Arabia
Mexico 2-1 Saudi Arabia
Poland 0-2 Argentina
Highlight: Salem Aldawsari's stunning goal for Saudi Arabia against Argentina clinched an unforgettable victory.
Group D
This group was widely expected to be dominated by 2018 World Cup winners France and Euro 2020 semi-finalists Denmark.
But while France did duly make it through as group winners, they did it the hard way. Denmark? They crashed out.
France progressed thanks to convincing victories over Australia and Denmark, but were shocked by Tunisia in their final group game.
But Australia's earlier 1-0 win over the Tunisians gave them the incentive to surprise Denmark in their closing game to clinch qualification in second place.
Who's through: France and Australia
Who's out: Tunisia and Denmark
Results:
Australia 1-4 France
Denmark 0-0 Tunisia
France 2-1 Denmark
Tunisia 0-1 Australia
France 0- 1 Tunisia
Australia 1-0 Denmark
Highlight: Former Sunderland midfielder Wahbi Khazri's superb winner against France was the perfect way for him to say goodbye to international football.
Group E
The "Group of Death" claimed a surprise victim as it lived up to its billing as the most entertaining group of them all.
Desp[ite Germany crashing out of last year's Euros at the group stage, few predicted anything other than them and Spain condemning Japan and Costa Rica to the minor places in Qatar.
But while Spain stuck to the script by putting seven past Costa Rica in their opening game, the picture changed when Japan stunned the Germans.
Germany kept their hopes alive with a late equaliser in a 1-1 draw against Spain, while Japan lengthened their chances of progression with a 1-0 defeat to Costa Rica.
Going into the final games, all four teams could still qualify. But after 15 minutes, with Spain and Germany each a goal up, the normal order seemed restored.
But an incredible see-saw night then unfolded, with Japan flipping the game against Spain with two early second-half goals, and Costa Roca somehow doing the same against the Germans.
And although Germany roused themselves to turn the game around, Japan clung on for a famous victory to progress as group winners and dump Hansi Flick's side out.
Who's through: Japan and Spain
Who's out: Germany and Costa Rica
Results:
Japan 2-1 Germany
Spain 7-0 Costa Rica
Japan 0-1 Costa Rica
Spain 1-1 Germany
Germany 4-2 Costa Rica
Spain 1-2 Japan
Highlight: While Japan's victory over Germany opened up a group that many had down as an open and shut case, it was VAR's decision to award the Japanese their winner against Spain – despite the ball having seemingly gone out of play in the build-up – which ultimately finished off the Germans.
Group F
Belgium were clear favourites to go through in a group where Morocco and Canada were seen as also-rans.
But, as elsewhere, that story went out of the window.
Belgium squeezed past Canada in their opening game, but were then well beaten by Morocco, who had already earned a 1-1 draw against Croatia.
With the Croatians having beaten Canada, they knew only a draw would be enough for qualification, and duly held out comfortably against a desperate Belgium, while Morocco saw off the already eliminated Canadians to win the group, and prompted Belgium boss Roberto Martinez to resign.
Who's through: Morocco and Croatia
Who's out: Belgium and Canada
Results:
Belgium 1-0 Canada
Croatia 0-0 Morocco
Canada 1-4 Croatia
Morocco 2-0 Belgium
Morocco 2-1 Canada
Belgium 0-0 Croatia
Highlight: A clearly unfit Romelu Lukaku's late miss for Belgium against Croatia from barely three yards out sealed their fate and summed up their competition.
Group G
Even the favourites for the tournament could not survive the initial stage completely unscathed, as this group threw up two classic matches.
Brazil was ultra-professional in beating Serbia and Switzerland in their first two games without conceding a shot on goal, although Switzerland were favourites to take the second qualiying spot, having beaten Cameroon in their opener.
Cameroon and Serbia then drew 3-3 in a World Cup classic, before the Africans then stunned Brazil with a late winner in their final game.
Unfortunately for the Indomitable Lions, Switzerland were seeing off Serbia 3–2 in another thriller at the same time to pip them to a place in the knock-outs.
Who's through: Brazil and Switzerland
Who's out: Cameroon and Serbia
Results:
Brazil 2-0 Serbia
Cameroon 0-1 Switzerland
Brazil 1-0 Switzerland
Serbia 3-3 Cameroon
Cameroon 1-0 Brazil
Switzerland 3-2 Serbia
Highlight: Joy turned to despair in a few seconds for Cameroon's Vincent Aboubakar as he celebrated his late winner against Germany only to discover the Swiss victory over Serbia meant he and his side were out of the tournament.
Group H
Euro 2016 champions Portugal won their first two games to clinch qualification from a group from which any of the other three teams could qualify going into the final matches.
Uruguay took on Ghana in a repeat of the 2010 World Cup match when Luis Suarez saved the ball with his hand, and Ghana missed the resulting penalty to exit the tournament.
But this time, both nations suffered, as an unlikely late goal earned South Korea a shock 2-1 win over Portugal to pip Uruguay for second place in the group, despite the South Americans' 2-0 victory over Ghana.
Who's through: Portugal and South Korea
Who's out: Uruguay and Ghana
Results:
Uruguay 0-0 South Korea
Portugal 3-2 Ghana
Uruguay 0-2 Portugal
South Korea 2-3 Ghana
Ghana 0-2 Uruguay
South Korea 2-1 Portugal
Highlight: FIFA's technology experts revealed definitively that the goal Cristiano Ronaldo angrily claimed he had headed home against Uruguay was awarded to his former Manchester United teammate – and seemingly former friend – Bruno Fernandes.
Round of 16 games:
Netherland vs USA
Argentina vs Australia
France vs Poland
England vs Senegal
Japan vs Croatia
Morocco vs Spain
Brazil vs South Korea
Portugal vs Switzerland