Formula E Round 6: Jaguar samba to a podium lock out in São Paulo
Jaguar took an impressive podium lock out in São Paulo with its factory drivers sandwiched by its customer team in Envision Racing.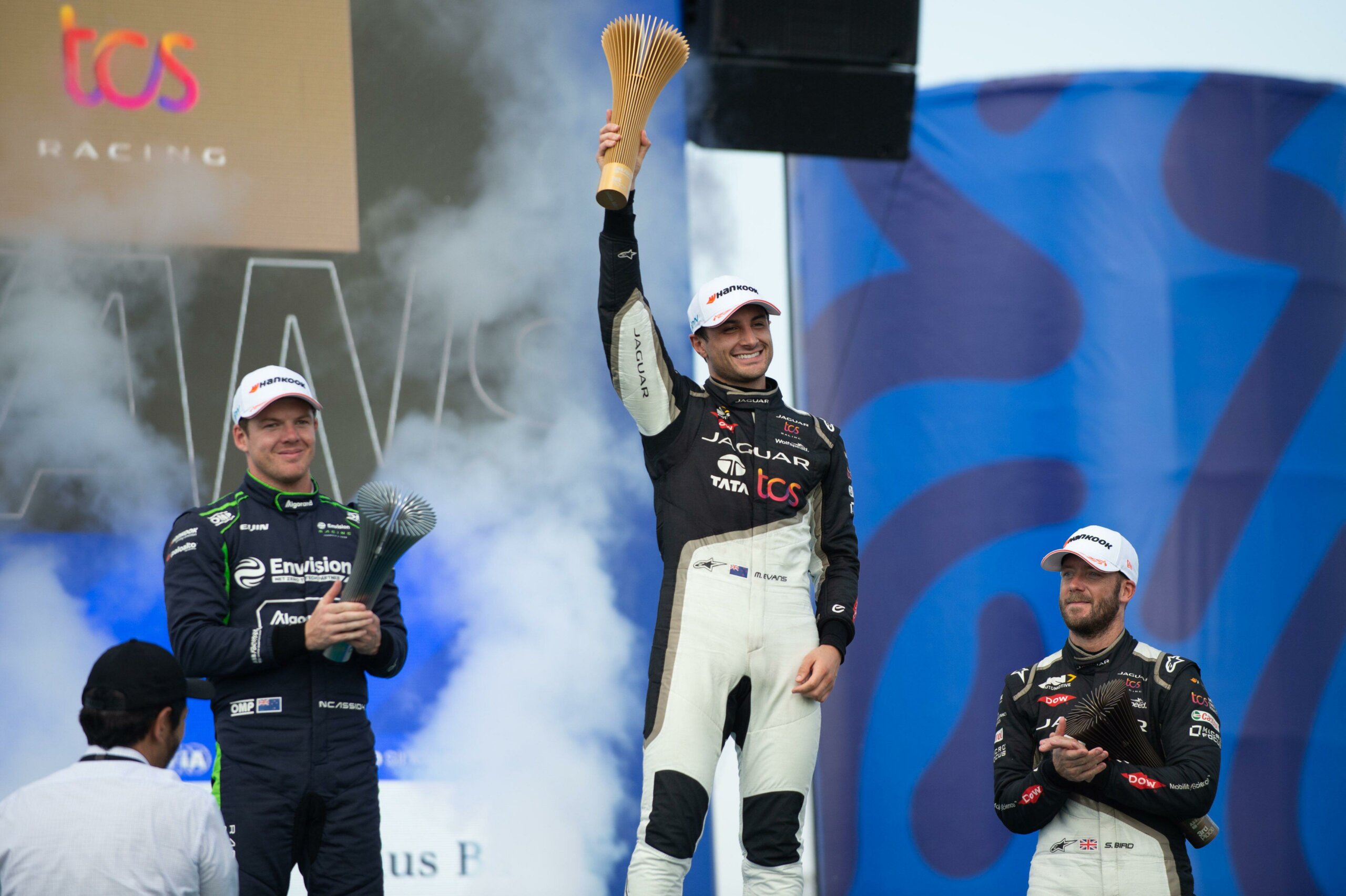 Practice
Practice was a subdued affair with teams mostly data gathering for qualifying and understanding the circuit. The headline times in qualifying were Sebastian Buemi in the Envision topping FP1 with a 1:12:341 and Antonio Felix Da Costa in the Porsche topping FP2 1:11:496.
Qualifying
Qualifying threw a few surprises with for example P1&P2 in the title fight in Pascal Wehrlein and Jake Dennis both missing out on the duel stage and starting the race in P18 (penalty) for Wehrlein and P14 for Dennis. Another surprise was only one McLaren getting into the duels and getting knocked out in the quarter-finals.
The biggest headline from the duel stage was Stoffel Vandoorne becoming the ninth different pole sitter in nine races as well as the first for Penske Autosport in 90 races.
The Race
The initial start of the race was chaotic with Norman Nato retiring in one incident and Andre Lotterer, Buemi and Edo Mortara falling down the field in other separate incidents. The main bulk of the race was the podium battle which was like a cycling Peloton with the fact that the São Paulo is so energy intensive. Said battle included Vandoorne, Da Costa, Mitch Evans and Nick Cassidy.
This battle was briefly disrupted by Jake Dennis and the NIO of Dan Ticktum coming together and bringing out the safety car. In the latter part of the race Da Costa dropped out of the battle due to a lock-up. The final battle for the podium was between Cassidy, Mitch Evans and now Sam Bird thanks to good energy management and well timed attack modes.
The final laps were very tight with the top three finishing as an all Jaguar powered podium within half a second of each other.
Race Results
1
9
Mitch Evans
Jaguar Racing
35
53'25.536
25
2
37
Nick Cassidy
Envision Racing
35
53'25.820
0.284
0.284
18
3
10
Sam Bird
Jaguar Racing
35
53'26.043
0.507
0.223
16
4
13
Antonio Felix da Costa
Porsche Team
35
53'29.023
3.487
2.980
12
5
25
Jean-Eric Vergne
DS Penske
35
53'29.578
4.042
0.555
10
6
1
Stoffel Vandoorne
DS Penske
35
53'30.112
4.576
0.534
11
7
94
Pascal Wehrlein
Porsche Team
35
53'31.195
5.659
1.083
6
8
5
Jake Hughes
McLaren
35
53'31.677
6.141
0.482
4
9
58
René Rast
McLaren
35
53'32.939
7.403
1.262
2
10
16
Sébastien Buemi
Envision Racing
35
53'33.512
7.976
0.573
1
11
7
Maximilian Gunther
Maserati Racing
35
53'40.728
15.192
7.216
12
36
Andre Lotterer
Andretti Autosport
35
53'40.881
15.345
0.153
13
11
Lucas di Grassi
Mahindra Racing
35
53'44.783
19.247
3.902
14
33
Dan Ticktum
NIO Formula E Team
35
53'44.934
19.398
0.151
15
4
Robin Frijns
Team Abt
35
53'46.287
20.751
1.353
16
8
Oliver Rowland
Mahindra Racing
35
53'52.001
26.465
5.714
17
3
Sergio Sette Camara
NIO Formula E Team
35
53'57.050
31.514
5.049
dnf
51
Nico Müller
Team Abt
19
33'32.998
16 Laps
16 Laps
Retirement
dnf
48
Edoardo Mortara
Maserati Racing
19
33'33.333
16 Laps
0.335
Retirement
dnf
27
Jake Dennis
Andretti Autosport
13
22'53.709
22 Laps
6 Laps
Retirement
dnf
23
Sacha Fenestraz
Nissan e.dams
6
9'12.924
29 Laps
7 Laps
Retirement
dnf
17
Norman Nato
Nissan e.dams
0
0.000
Retirement