Team Sunderland 2nds 8-3 Team Sunderland 3rds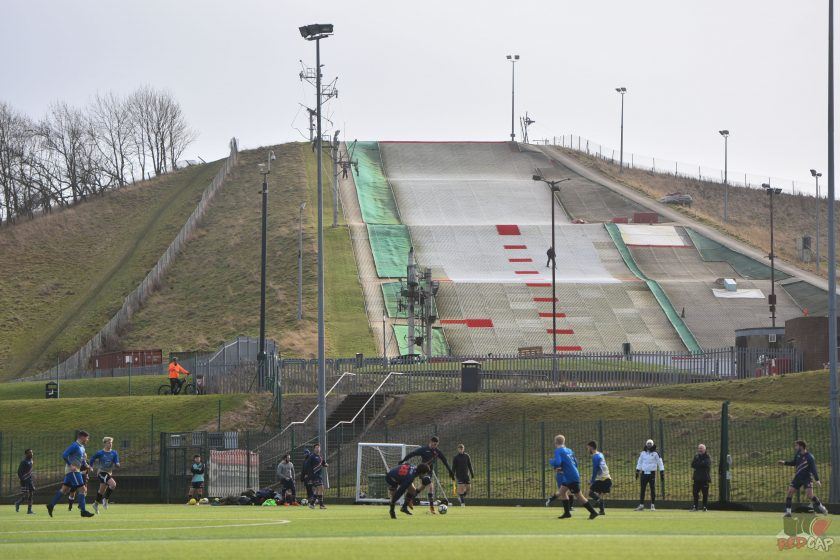 A hat-trick from Sotiris Kyriakou gave Sunderland 2nds the bragging rights against nine-man Sunderland 3rds in what was a fiercely contested derby match at Silksworth.

Two red cards either side of half time for Lee Bratton and Ahmed Hussain epitomised the nature of the game in what was a highly physical encounter throughout.

The goals flowed from the offset as Sunderland 3rd's Callum Atkinson cancelled out an early Tom Webster opener, before a Kyriakou penalty instantly restored the away side's lead.

Bratton then received a red card for a high kick on Kyriakou as Sunderland 2nd's made use of the 10-man advantage to add a couple more before the break, with Kyriakou and Anth Deans grabbing the goals.

After the break, the lead increased when Bailey Shepherd scored directly from a corner before Ametu Bank Akpeji pulled a consolation back for the home side.

Goalkeeper Hussain then saw red before Kyriakos added a third for his hat-trick, and a double from substitute Jack Murphy either side of another Akpeji consolation completed the rout.

The win against their rivals sees Sunderland 2nds maintain second position in the league on nine points, with the 3rd side still looking for their first win of the season.

It was actually the home side who nearly provided an early scare when Daniel Lee threaded in a beautifully weighted pass to Ametu Akpeji who drilled his shot inches over the crossbar.

An almost replica attack happened moments later, this time it was James Stocks who found Akpeji who again struggled to get his shot on target.

Sunderland 2nds then opened the scoring on 10 minutes when a long ball from David Ekperouh found Kyriakou, who's mazy run towards the left saw a loose ball fall to Bailey.

The midfielder then teed up Tom Webster, who curled a 25-yard effort into the top corner off the inside of the post.

The hosts soon equalised against the run of play, when a Giorgio Choraitis cross took a slight deflection before finding Callum Atkinson who buried home from close range.

It stayed 1-1 for all of two minutes when a piercing through ball by James Noble fed in captain Bradley Foster, only for the forward to be tripped by Nick Arampadis and a penalty was awarded, which was coolly slotted home from Kyriakos.

A key point in the game came 10 minutes before the break when Sunderland 3rds full-back Lee Bratton chopped at Kyriakou on the halfway line with a high lunge, only for the forward to continue with his counter-attack.

The referee then went back to the incident after playing the advantage and showed Bratton a red card, and it was from this point that the game began to turn ugly with tackles flying in from both sides.

Sunderland 2nds made good use of the extra man advantage, as Kryiakou and right-back Deans both scored cracking long-range efforts to give their sides a comfortable quick-fire lead.

The second-half arrived and the away side managed to increase their lead to four not long after the restart, when winger Bailey Shepherd scored directly from a corner much to the bemusement of the opposition back-line.

A glimmer of hope did occur for 10-man Sunderland 3rds, when a through ball caused confusion between goalkeeper Michael Stephenson and Cameron Abernethy, allowing winger Ametu Bank Akpeji to pull one back for his side.

Sunderland 3rd's second red card of the game came not long after and put an end to any hope of a possible comeback when goalkeeper Ahmed Hussain was caught in no man's land on the edge of his area.

Hussain brought down Shepherd with a challenge that wouldn't have looked out of place at the Rugby World Cup a couple of weeks ago, and it left his side with a mountain to climb having already had a man dismissed.

The two man advantage allowed the visitors to add a few more before the full-time whistle, and when captain Bradley Foster beat the offside trap on 65 minutes, his parried effort fell perfectly to Kyriakou who was able to complete his hat-trick.

Akpeji scored another consolation not long after, and his brace turned out to be the biggest positive that the home side could take from this fixture.

The winger was the host's most lively player whenever they were on the attack, and threatened the opposition goal whenever he was presented the opportunity to do so.

With confrontations between players continuing and tackles coming from all angles, the referee must have been desperate to blow the final whistle for this one.

Substitute Jack Murphy came off the bench to add a late flurry of goals for his side, first scoring off an Ewan James corner before curling a 25-yard effort into the bottom corner past the makeshift goal-keeper.

Sunderland 3rds will be looking to bounce back from another defeat when they travel to top of the table Newcastle in a fortnights time, whilst Sunderland 2nds will be hoping to achieve back to back wins for the first time this season when they host York on the same day.