"It's a different club and era now" – Hartlepool United legend Mickey Barron discusses life post-2005, Dave Challinor and the life of a retired footballer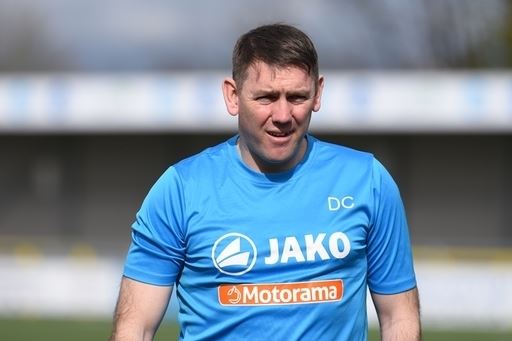 Following a 12-year-stint as a player at Hartlepool United, Mickey Barron retired at the end of the 2007-2008 season.

As we look at the team in the years after the League One Play-off final in 2005, Mickey Barron discusses the club's difficulties in the aftermath of the 2004/2005 season, his thoughts on current Pools boss Dave Challinor, and the life of a retired footballer.

When Barron first arrived at the club on loan in 1996/1997, the club were fighting to stay in the Football league. It took several years and new owners for Barron to experience being part of a winning team at Hartlepool.

Increased Oil Recovery (IOR) bought the club in 1997, and were at the helm for the club's most successful period.

Barron says the ownership change was when things started to look up for the club.

"When I first signed we were hoping not to get relegated every year, then IOR came in with Chris Turner and things started to change.

"The facilities started to get better, the training equipment got better, the club became more professional and slowly we saw a shift in the perception of Hartlepool."

This culminated in the club reaching the 2005 League One play-off final, which we previously discussed with Barron.

Pools were relegated to League Two in 2005/2006, suffering from 'play-off hangover'. Barron believes that the change in manager late in the previous year had begun to take effect, and that things were changing at the club.

"I think it was a tough season because you obviously have that hangover period after the play-offs to deal with.

"Martin (Scott) had brought in quite a lot of players and changed the dynamics of the group a little bit, which of course he was well within his right to do, but there was a different atmosphere around the place."

Thankfully, the club managed to return to England's third tier at the first time of asking as they finished runners up.

In 2007/2008, Pools finished in 15th place, although this was just six points above the relegation zone.

Barron retired at the end of the season, but would remain associated with the club as a coach and assistant manager until 2013.

In Barron's last year with the club, Pools were relegated back to League Two.

The club were a shell of the great underdog side of 2004/2005 by this point.

Even though he is no longer associated with the team in an official capacity, Barron hopes that Pools can have a revival in the near future similar to the glory days of the early to mid 2000's.
"Hopefully the club has these experiences again, but it was one of those periods of time where everything came together.

"There was a special atmosphere around the town.

"The players used to go out in Hartlepool with the fans and everyone was together. There wasn't much criticism, even when we got beat, because I think the fans knew what we were trying to do and how much we had come on since I first signed for the club."

Coincidentally, 20 years after Barron's first season at Pools, where they had been fighting for their league status, Pools finally succumbed to relegation after spending four years languishing in the basement of League Two.

IOR had finally ended their partnership with the club in 2015, and in the years following the club have flirted dangerously with liquidation.

A lack of backing behind the seasons and performances on the pitch led to crowds as low as 2,517 spectators at Victoria Park for a league game against Accrington Stanley and 380 for an EFL Trophy game against Rochdale in Pools' final season in League Two.

For a comparison, in 2004/2005, 7,580 fans attended an FA Cup game against Brentford at Victoria Park.

After two seasons in the National League, Hartlepool had looked to be putting together a push for the play-offs under new manager Dave Challinor.

Attendances have slowly been rising once again, and the team looks to be finally giving the town something to shout about. However, due to the outbreak of the Coronavirus, any hopes of promotion in the near future have been dashed.

Barron, though, believes that Challinor is doing a good job bringing back the town's faith.

"I think it's a case of if the team does well then more people will come along. I remember at one stage people were struggling to get tickets because everyone wanted to go to the games.

"There is a feel good factor coming back with Dave and how he has got the team playing at the moment so hopefully in the next few years we will be back in the Football League being successful again."

Nowadays, Barron recognises that the club is different to the one he played for.

Two changes in ownership and an abundance of different managers means that all that remains of the glory days are his own memories.

Even though Barron clearly enjoyed his stint at Victoria Park, he doesn't think that he should be involved much anymore.

"The only time I go back now is to do commentary on the odd occasion.
"It's a different club and era now.
"Even behind the scenes it's completely different to how I remember it, and I'm not sure if it's something I should go back to.
"I think I should remember the times that I had there, but I still have to move on. I'll go back and watch games every now and then and help out with media things if I can but apart from that I don't think I'll go back."

Since departing Pools in 2013, Barron has gone on to work in the P.E department at a school, as well as coaching with private football academy Premier Player.

With no more commitments on weekends, Barron says he can enjoy more time with his family.

"I work Monday to Friday then I have weekends off, which my wife is delighted about because it means I can spend more time with my family."

Even though he relishes the opportunity to spend time with his family, sometimes Barron misses being able to play professionally.

"Sometimes I miss the structure of being a professional, but I remember the first weekend after Ritchie (Humphreys) retired he sent me a picture of him having a beer in his garden and him saying "I can see why you're enjoying retirement.

"So it does have it's benefits, but I do still miss playing football sometimes."