Stepping out of the comfort zone: Elite Athlete Caitlin Poulson talks marathon training & charity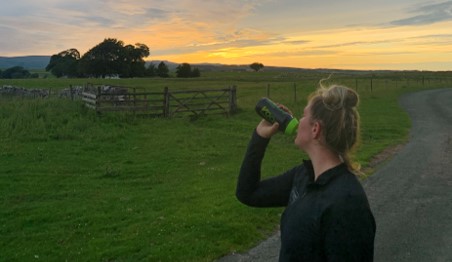 Team Sunderland Elite Athlete Caitlin Poulson is undertaking her most difficult challenge yet as she trains towards the London Marathon.
The open water swimmer has swapped her wetsuit for running shoes while raising money for Papyrus UK, a charity very close to her heart.
On why she decided to enter the London Marathon ballot she said: "It's not a very interesting story, my boyfriend's Mum messaged me to ask whether I would enter with her. I never thought I'd get a place so I said why not.
"With the restrictions at the time I had no open water races and no training in the pool so I really needed something to focus on besides university work, especially as we couldn't even access the gym."
Caitlin was shocked when she got accepted and said: "I couldn't quite believe it, it was a bittersweet moment I was really happy that I'm going to do a marathon but then realisation hit that I have to train to run a marathon and I've never ran more than a mile in the last couple of years."
Caitlin knew she was going to use her place to represent and raise money for Papyrus UK, a charity that provides hope and help for young people with thoughts of suicide and a charity that means a lot for Caitlin.
"My best friend lost his sister, Sophie, just before Christmas in 2018 to suicide. Their family are really close to mine and they mean so much to me.
"Sophie's Dad, Andy did so much charity work for Papyrus and he inspires me every day to run, knowing that if he could do it so could I.
"In addition to honouring their family's strength I wanted to choose Papyrus because a lot of people's mental health has taken such a blow that charities like Papyrus need funding now more than ever to help people struggling."
As a self-confessed novice when it comes to marathon training Caitlin is following a training plan from a running magazine and is also documenting her training on social media.
"I'm not the quickest or prettiest runner but I'm happy that I'm managing to run, I've set up a Tik Tok account to track my progress and my first video got over 50,000 views."
The London Marathon takes place on Sunday October 3 this year and to support Caitlin and Papyrus have a look at the fundraising page.
https://www.justgiving.com/fundraising/caitlin-poulson1?utm_source=facebook&utm_medium=fundraising&utm_content=caitlin-poulson1&utm_campaign=pfp-share&utm_term=1355884500f14c4fb1e9a49d2efd12cd&fbclid=IwAR3Ew2USPy7zNqyFt-TbyExiv60IKllydxeAg7r1gnEmCuL8GVA0qM2A36M