Team Sunderland Elite Athlete called up to English Universities squad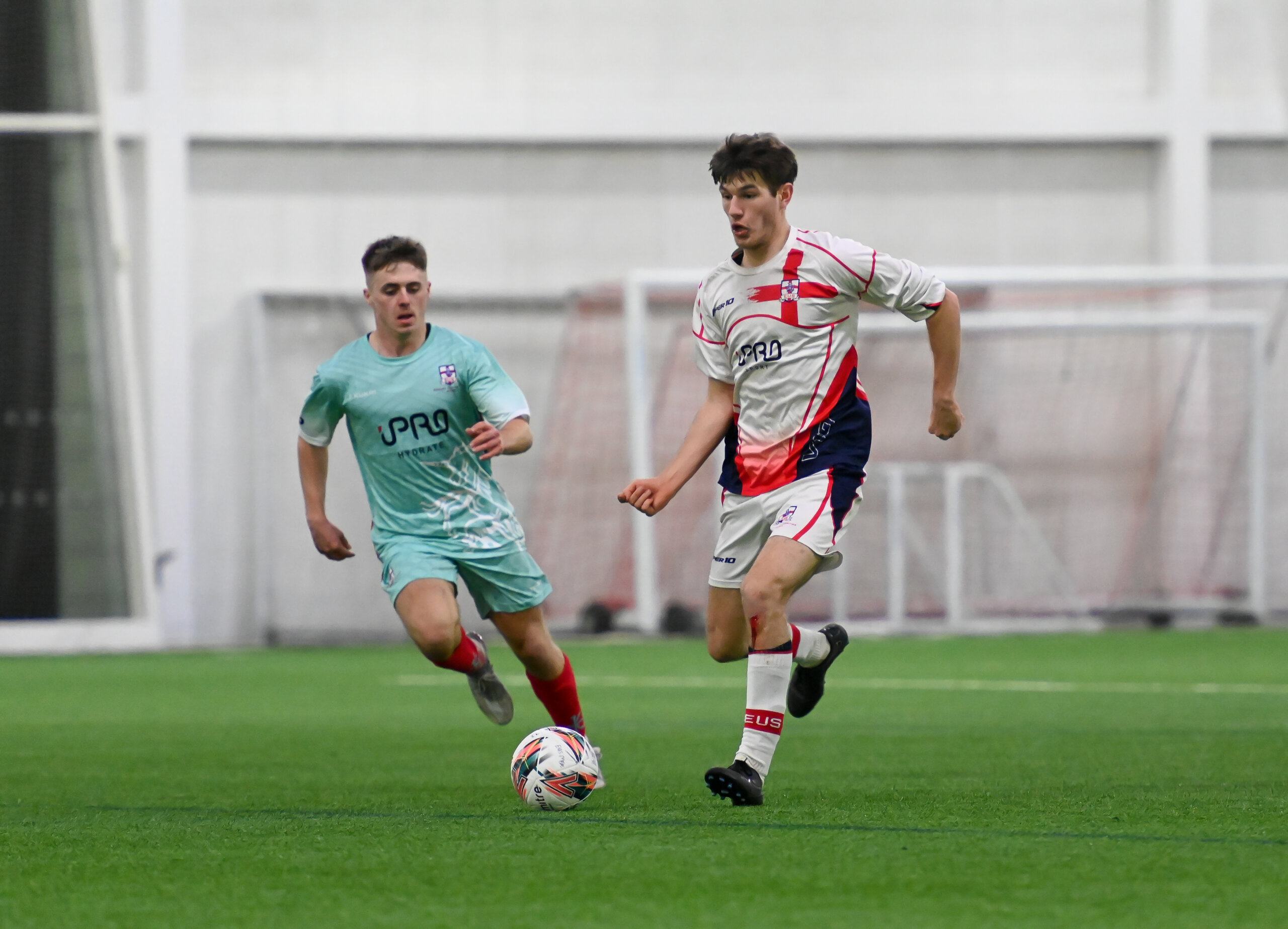 Simon Jakab, a member of the men's football team and of the Elite Athlete scheme at the University of Sunderland, recieved a called up to this season's English Universities squad.
Jakab became the first Team Sunderland footballer to be selected for the national universities squad, joining other athletes in recent years to receive national recognition such as rugby union players Molly Gardener and Simon Uzokwe who currently plays for Ealing Trailfinders, the reigning champions of the RFU Championship.
Not only does Jakab play football at university level, but he currently also played semi-professionally this year for North Shields in the Pitching In Northern Premier League East.
The Hungarian born Jakab has spent his university playing days under the guidance of men's football first team coach James Clark.
Coach Clark spoke about Jakab's time in his squad and the growth he's seen on and off the pitch from the versatile player.
Clark said: "From the first time I saw Simon at the university, what struck me was his determination and attitude. That coupled with his ability gave me no doubts he would be successful both at and away from the university.
"He has since grown into a really well rounded person who I respect hugely."
Jakab earned his place in the squad following a trial in the North vs Squad Challenge Cup, an annual game held by English Universities.
On how he was feeling in the build up to the game, Jakab said, "I'll be completely honest, I was a little bit nervous before the game, which I have not experienced for a while now. But I was able to prepare right, and once I was in the changing room, all the nerves were gone.
"The quality of players were different to what I was used to, but I managed to get into the game quickly. The whole day was a brilliant experience for me, and to top it off, getting the recognition of being man of the match just made it a huge achievement for me."
Despite playing a lot of his football in defence, Jakab is always keen to play on the front foot and drive with the ball to create a positive influence on the pitch.
His coach Clark described other attributes that has helped him get this far. He said, "Simon is strong, quick, athletic, has a good football brain but to stand above his peers in such a game is a true testament to Simon and the way he performs."
Jakab is no stranger to footballing success as he was part of the Consett squad that reached the FA Vase final in 2020 at Wembley against fellow North East outfit Hebburn Town.
However, on an individual level, making this squad takes top spot for Jakab.
He said, "Personally, this is probably the greatest achievement of my footballing career so far. I am lucky enough to be able to compare it to other achievements, such as the FA Vase final at Wembley, but I feel this is more personal. I took more pride in achieving this than being part of the team two seasons ago."
Prior to Jakab's debut for the side, he felt up to the challenge and spoke about what he was looking forward to most.
He said: "Weirdly I'm most looking forward to the preparation. Because preparing for a game means I always look back at the path where I came from, the things I have done to get where I am in that moment, and that fills me with pride.
"Before every game we will play, the moments that lead me there play in my mind, they give me the extra motivation to perform at my best."
Jakab also said that he hoped to make everyone proud in his outings for the national team, but those around him were already incredibly proud of his achievements.
Clark summed it up best. He said, "Simon deserves everything he is getting right now and I have no doubt he'll progress further. He is a credit to himself, his family and the university as a whole. We are lucky to have him."