Deep Dive: How Sunderland Women achieved derby day delight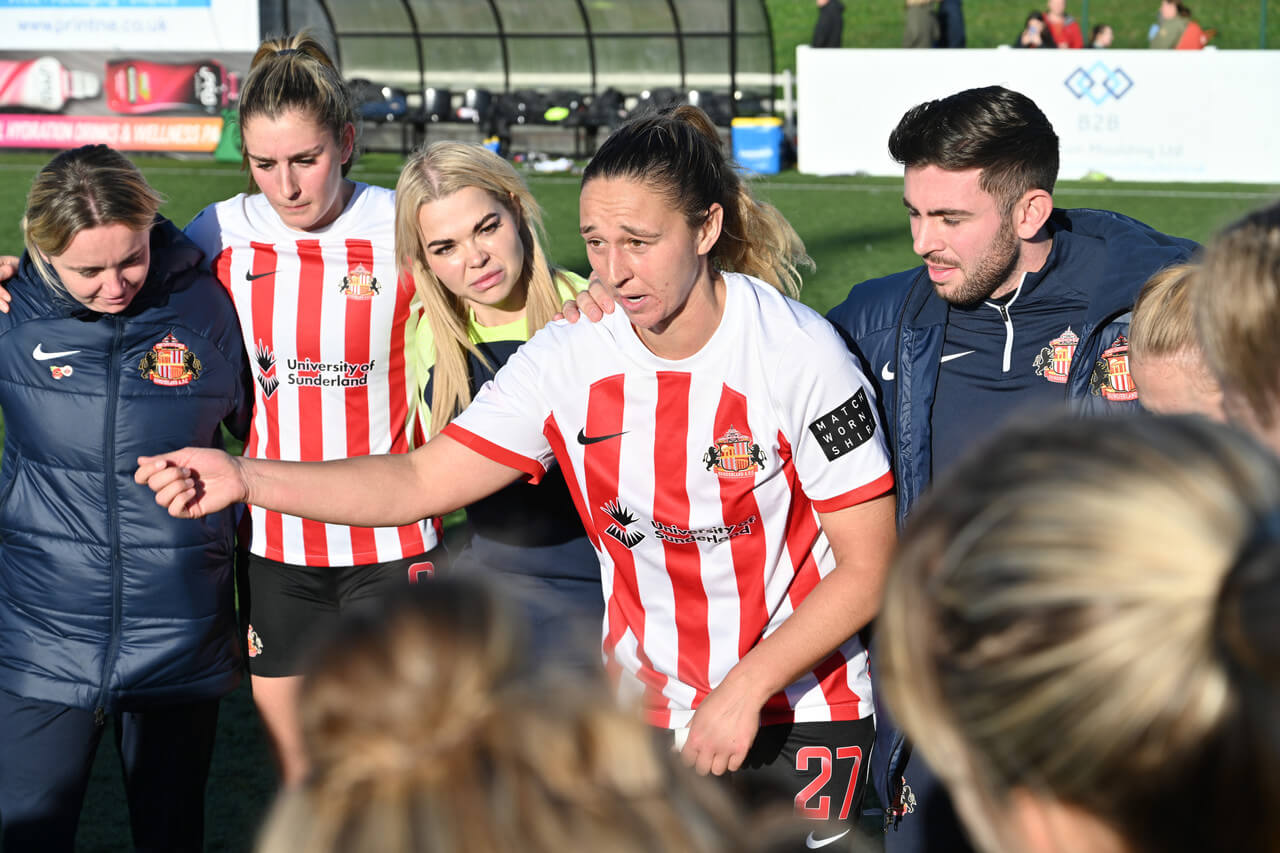 Derby day is usually always drama day. Narratives galore, passionate fans, and players that understand the gravity of a win against local rivals are all in play. It is a feeling known all too well to Sunderland's Liz Ejupi who made her first return to Maiden Castle since she left Durham for Sunderland last season.
In a game of few chances of quality, it would be those moments of drama and brilliance that would unlock the River Wear derby.
The stop-start nature of the game suited Durham in the opening stages who looked to exploit the space through the middle over the Sunderland back line. Mollie Lambert and Poppy Pritchard linked up well for the hosts and were their brightest players in the first half.
Durham set up from goal kicks with a front five and tried to find someone to hold the play up to slide in a winger or look for a ball over the top.
Sunderland struggled to keep hold of the ball in the first quarter of the game with Durham disrupting the passing Sunderland wanted to play. Sunderland's only real chance of the first period of the game came from a corner – a Natasha Fenton header cleared off the line by a resolute Durham defence.
As the game progressed towards half time, chances started to open up at both ends and a sense of inevitability began to draw itself into this tie. It felt like a goal was soon coming, defences of both sides became less compact and Sunderland began to move the ball faster across the ground, something that for the majority of the first half Durham had restricted them from doing.
The feeling of inevitability was realised courtesy of a superb freekick, whipped into the top left corner by Katie Kitching on the stroke of half time.
The second half began and retained the combative feeling of the first half. It also retained the pace on the transition from Sunderland who had grown into the match.
They were playing with more confidence and able to fashion chances with some sharp passing and footwork.
It remained an edgy and nervy affair with Durham trying to force things onto the wings, but Sunderland were able to limit the chances they conceded to free kicks and corners. Durham were able to manufacture some good chances from these but they were few and far between and when they did materialise, Claudia Moan was behind them in the Sunderland net.
Ultimately, Sunderland's quality in possession was too much for Durham, despite some valiant battling in the midfield.
Durham will have a chance to avenge this result next week as they travel to Sunderland to play a Continental Tyres Cup game.