Late goal flurry as Padiham beat Heaton Stannington to progress in FA Vase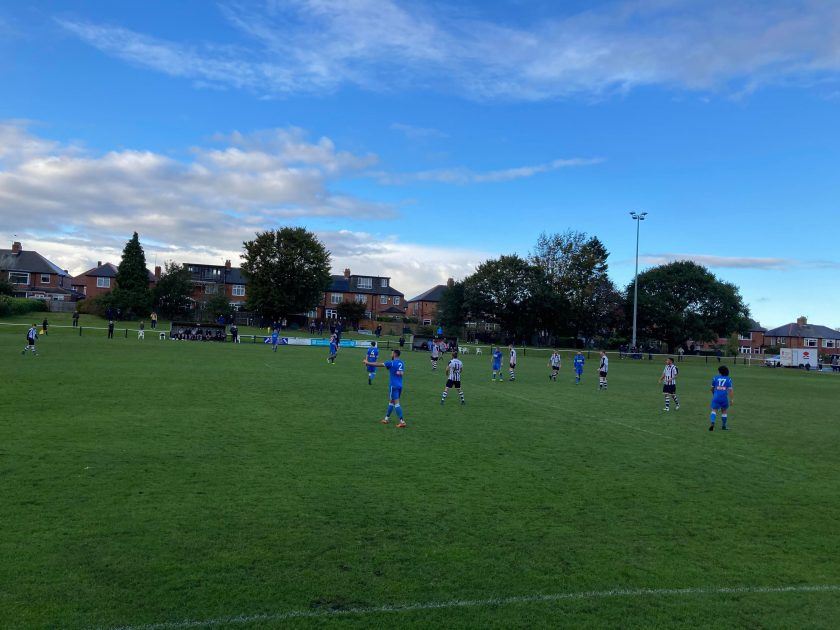 FT: Heaton Stannington 1-2 Padiham. Attendance: 170.
The Storks scored two late goals to progress to the next round of the Buildbase FA Vase.
Mark Ayres opened the scoring from the penalty spot for Padiham in the 74th minute.
The Stan replied through Jon Wright in the 83rd minute. A minute later, Harvey Close scored the winner for Padiham.
Heaton Stannington would have been buoyed after an 8-0 victory in mid-week over Brandon United, where Jon Wright, Stan's current and all-time top goalscorer in the Northern League, scored twice.
But Step 6 Stannington faced tougher opposition from Step 5 Padiham who won their mid-week match 2-1.
Padiham started their season later than Stannington, and they were slow to start at Grounsell Park; it was in the opening 15 minutes that the home side could have capitalised on a strong foothold in the game.
The Stan started the game with two clear cut chances. The first was when Mark Ayres hit his own post under pressure from Connor Campbell with just 17 seconds on the clock.
In the 14th minute, Kevin Carr could not convert a cross after good work from Regan Paterson on the right-wing.
Three minutes before half-time, Kevin Carr fired a cross into Lewis Burns, whose header hit the bar.
150 fans had to wait until the final 15 minutes to see a three-goal flurry.
In the 74th minute, Dominic Craig cut inside into the left-hand side of Stan's box, before Michael Hall fouled him. Centre-back Mark Ayres stepped up to fire home the penalty into the bottom left corner. 
Kevin Carr slid a through pass to Jon Wright on the right-hand side of the pitch. The forward took the ball in his stride before delicately chipping Padiham's goalkeeper for Stannington's equaliser.
A minute later, half-time substitute Harvey Close fired home in the box to win the match for Padiham. He was assisted by Willem Tomlinson with a clipped cross.
Heaton Stannington
Dan Regan, Ali Stoddart, Michael Leech, Kye Waters, Michael Hall, Dean Imray (c), Regan Paterson, Josh Wilson, Connor Campbell, Kevin Carr, Lewis Burns, Ryan Bailey.
Subs: Gary Dixon (Unused), Jon Wright (59), Richie Hoggins (59), Joe Blackbourne.
Padiham
Matthew Hamnett, Daniel Morton, Lucas Eastham, Christopher Anderson, Mark Ayres, Luke McKenna, Oscar O'Neill, Willem Tomlinson, Dominic Craig (c), Jack Egan, Teal Amos, Ellis Hancox.
Subs: Kieran Sherlock, Morgan Crowther (84), Keiran Lee, Harvey Close (45).