Team Sunderland celebrate the season's achievements at Sports Ball 2023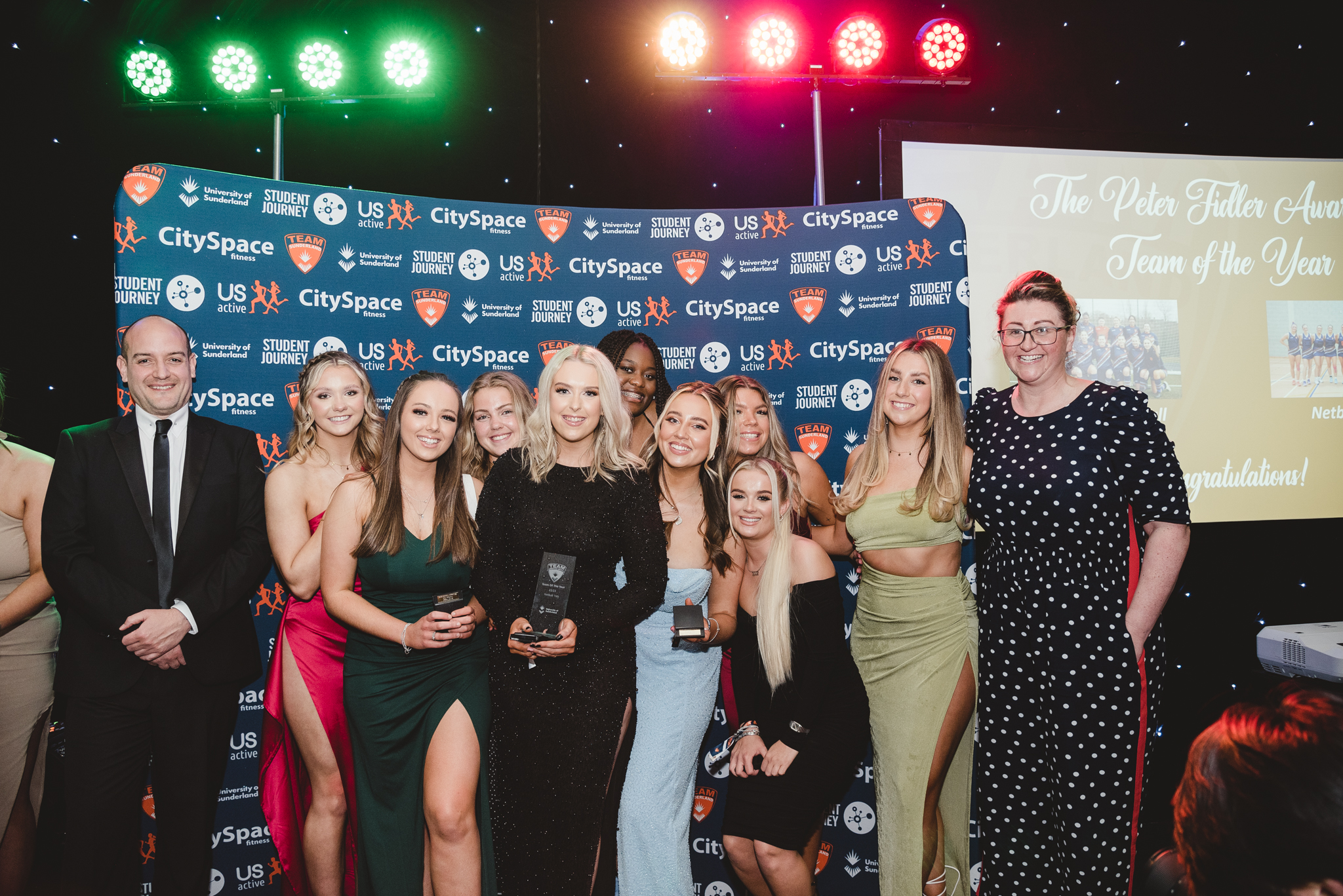 Team Sunderland celebrated the success of the 2022/23 season with all clubs at the annual Sports Ball event.
Ramside Hall in Durham hosted the evening and the awards themselves were presented by Team Sunderland's Student Engagement Officer, Jane Thwaites.
The big winners of the night were Women's Football and Netball firsts who both picked up multiple awards. The pair were awarded The Peter Fidler Award for Team of the Year.
Both also saw their coaches, Gary Bennett and Natalie Connor, share the honour of Coach of the Year.
Unsung Hero awards were also presented to players from both teams in Victoria Curtis (Football) and Abby Cass (Netball).
Keshia Hilton, Women's Rugby coach, was presented a Special Recognition Award for her efforts with the side that also picked up Performance of the Year (shared with Men's Futsal's incredible comeback against Newcastle) for their dramatic last-gasp victory away at Northumbria this season.
Special Recognition Awards were also awarded to the unbeaten Women's Futsal as well as Jasmine Thompson (Climbing & Snowsports).
Weightlifting's Josh Hutton was named Sports Person of the Year after an incredible year which recently saw the 18-year-old win BUCS gold and break the British Under 20 record.
Hutton is a member of the Elite Athlete at the university and he spoke about the Elite Athlete scheme and his aspirations for the summer.
He said: "It's been incredible (the Elite Athlete scheme). All the support has been so fundamental in helping me get where I am so I'm really grateful for it all.
"This summer I'm going to the British Senior Championships hoping to break more records against the best in Britain."
Elsewhere, Mia Tierney-Tomlinson of Women's Football was awarded the Ainsley Charles Award for Most Improved Individual after stepping in goal to help the side win the league title.
Cricket were rewarded for their dedication as they won Committee of the Year, while Men's Football seconds picked up the award for Most Improved Team.
Men's Football were also celebrated for their incredible charity work this year as they were presented with The Vice-Chancellor's Charity Award, while the club's President, Oliver Barnett, was recognised as The Individual Who Achieved the Most for their Club.
SportsByte's own Dom Bingham picked up Reporter of the Year for his work across many Team Sunderland clubs this season.
Finally, Vice-Chancellor Sir David Bell, who had opened the ceremony with a pre-recorded message, selected Women's Football as Club of the Year.
Pictures from the event are available on Team Sunderland's social media.